We are in the final month of the 2012 hurricane season. Above is a preliminary map of the 2012 season so far. Here is the recap from the National Hurricane Center for October...

FIVE TROPICAL STORMS FORMED IN THE ATLANTIC BASIN DURING THE MONTH
OF OCTOBER. TWO OF THESE REACHED HURRICANE STATUS...RAFAEL AND
SANDY. THESE TOTALS FOR THE MONTH ARE WELL ABOVE THE LONG-TERM
AVERAGES (1981 TO 2010) OF TWO NAMED STORMS AND ONE HURRICANE IN
THE BASIN IN OCTOBER. 

IN TERMS OF ACCUMULATED CYCLONE ENERGY...WHICH MEASURES THE COMBINED
STRENGTH AND DURATION OF TROPICAL STORMS AND HURRICANES...TROPICAL
CYCLONE ACTIVITY SO FAR THIS YEAR IS ABOUT 30 PERCENT ABOVE THE
1981-2010 AVERAGE IN THE ATLANTIC BASIN.

REPORTS ON INDIVIDUAL CYCLONES...WHEN COMPLETED...ARE AT THE WEB
SITE OF THE NATIONAL HURRICANE CENTER...USE LOWER-CASE LETTERS...
HTTP://WWW.HURRICANES.GOV/2012ATLAN.SHTML

SUMMARY TABLE

NAME                DATES         MAX WIND (MPH)
---------------------------------------------------
TS ALBERTO          19-22 MAY         60
TS BERYL            26-30 MAY         70
H  CHRIS            19-22 JUN         75
TS DEBBY            23-27 JUN         60
H  ERNESTO           1-10 AUG         85
TS FLORENCE*          3-6 AUG         60
H  GORDON           15-20 AUG        110
TS HELENE            9-18 AUG         45
H  ISAAC         21 AUG-1 SEP         80
TS JOYCE            22-24 AUG         40
H  KIRK          28 AUG-2 SEP        105
H  LESLIE       30 AUG-11 SEP         75
MH MICHAEL           3-11 SEP        115
H  NADINE        11 SEP-4 OCT         90 
TS OSCAR              3-5 OCT         50
TS PATTY            11-13 OCT         45
H  RAFAEL           12-17 OCT         90
H  SANDY            22-29 OCT        110
TS TONY             22-25 OCT         50
--------------------------------------------------
Still, despite 'Superstorm Sandy', which was not a hurricane or a major hurricane at landfall, we have not had a landfalling major hurricane since Wilma in 2005. Below is a map of major landfalling storms this decade.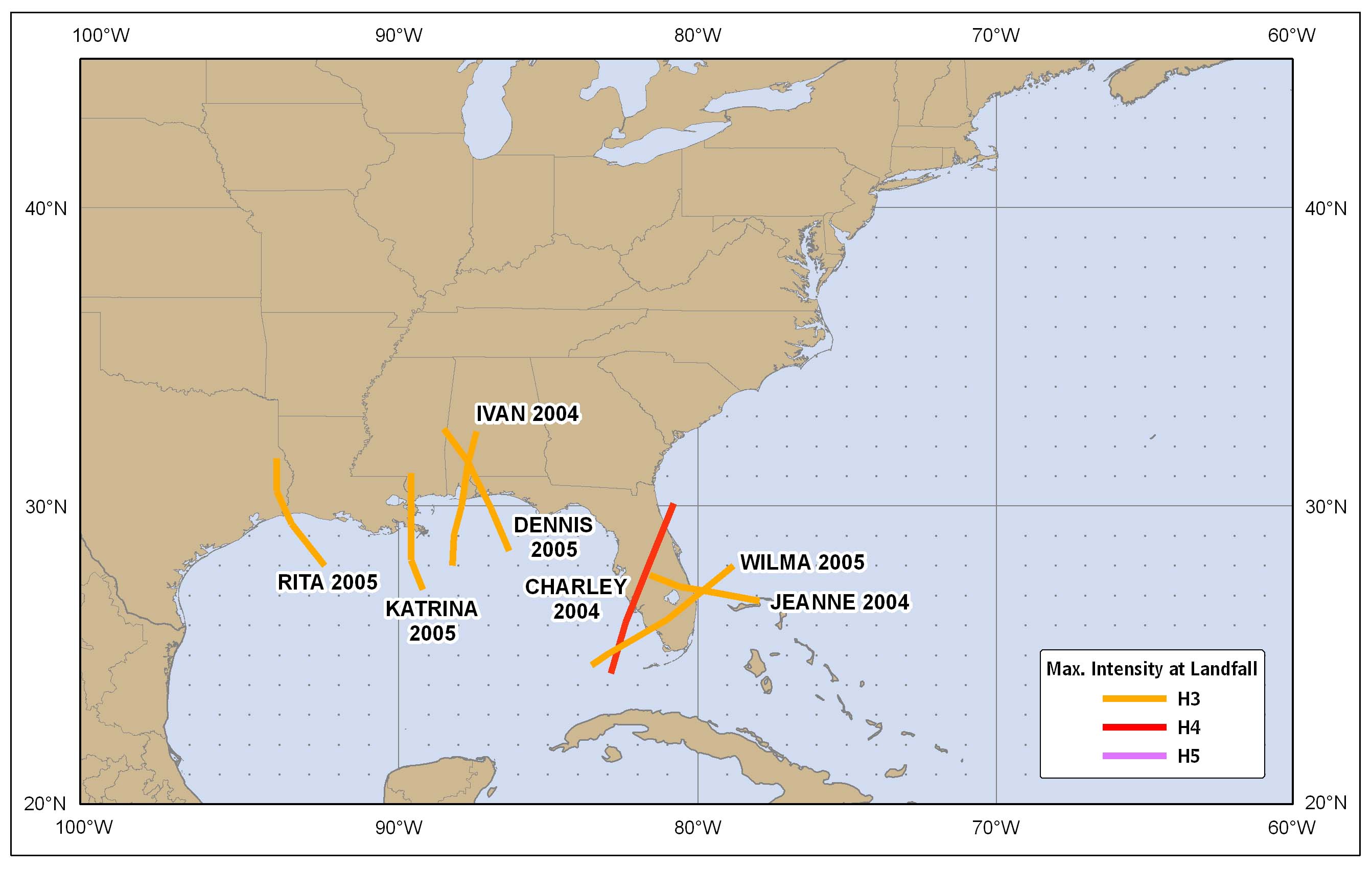 The interesting thing to note is that as busy as it has been in the tropics over the past decade with major storms.... there has been no uptick in the number of storms that have hit the U.S. A link to those stats can be found here...
http://www.nhc.noaa.gov/pastdec.shtml
On average we see 6 major storm landfalls per decade.
We still have 24 days left in the 2012 hurricane season and right not I am thinking we are about done. Still, November storms can happen... example being Kate in 1985. We will a complete recap of the season at the end of the month.
As always if you ever have any questions do not hesitate to contact me.
Sincerely,
Chris Smith
Chief Meteorologist
chris.smith@wjhg.com