Rick Seltzer Park gets a facelift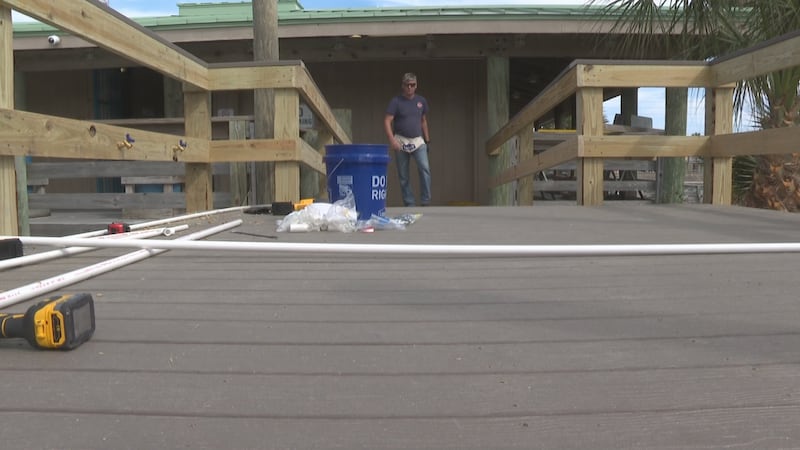 Published: Jan. 24, 2023 at 8:18 PM CST
PANAMA CITY BEACH, Fla. (WJHG/WECP) - One storm after the next, damage to local parks was inevitable. But more recently, Bay County leaders have seen one area at the beach becoming a safety hazard.
Time for a facelift.
"Using excellent materials. That's composite wood and stainless steel. You know if we're going to do a job we're going to do a quality job," Joy Saddler, the Parks and Recreation Division Manager for Bay County, said.
Over the past few weeks, they're been putting in the work and adding what officials said are much-needed improvements to Rick Seltzer Park.
"We're replacing a lot of the old lumber that's here right now. A lot of walking planks, the handrails, a lot of the stairs that have been damaged over the years," Vincent Martin, Beach Operations Manager for Bay County, said.
Located on the east end of Panama City Beach, the park is a known hot spot for locals and tourists alike.
"Our beaches are just beautiful man and I think that's why a lot of people choose to come here and also vacation here as well," Martin said.
That's why keeping them updated, clean, and most importantly safe are top priorities.
"We had some of our shower area, the wood was starting to deteriorate and we needed to replace that and so when we saw that, we decided that we'd go ahead and expand the deck and make these other renovations that would make it more efficient," Saddler said.
The county not only widened the deck by about four feet, but also revamped the showers, and added in a feet washing station.
"Offered a second entrance and exit for the flow and today they're working finishing up the plumbing on that," Saddler said.
A total of around $15,000 in renovations, all with one goal in mind.
"You know, let them enjoy the beach just a little bit more," Saddler said.
The project should be completed by the end of this week, weather permitting.
Copyright 2023 WJHG. All rights reserved.