1.7 tons of beef product recalled due to possible E. coli contamination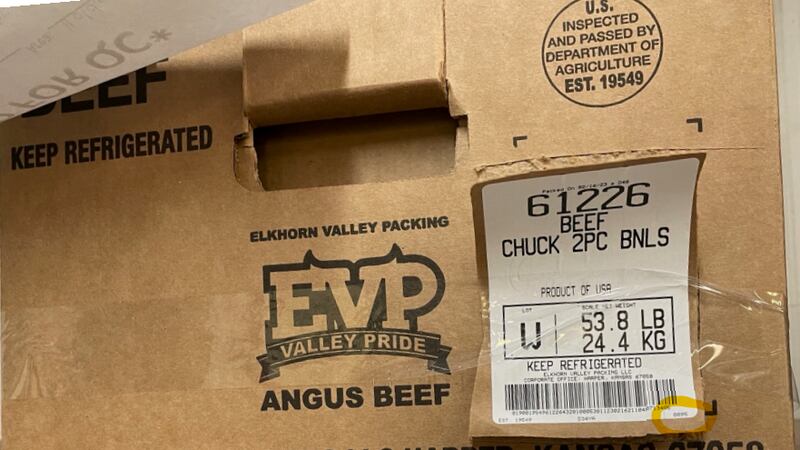 Published: Mar. 28, 2023 at 11:11 AM CDT
(Gray News) - About 1.7 tons of beef product distributed in nine states has been recalled due to a possible E. coli contamination.
The U.S. Department of Agriculture's Food Safety and Inspection Service reported that Elkhorn Valley Packing has recalled about 3,436 pounds of their boneless beef chuck product.
It is reported the beef product may be contaminated with the Shiga toxin-producing E. coli O103.
The affected product was packed on Feb. 16 and was distributed in corrugated boxes of various weights with the label, "Elkhorn Valley Pride Angus Beef 61226 BEEF CHUCK 2PC BNLS; Packed on 2/16/23." A full list of the serial numbers and box count numbers can be found on the FSIS website.
The product was distributed to a number of establishments, including retail locations and wholesale locations such as hotels, restaurants and institutions. The product was shipped to locations in Connecticut, Illinois, Indiana, Maryland, Massachusetts, Michigan, New Jersey, New York and Pennsylvania.
The Food Safety and Inspection Service stated there have been no confirmed reports of consumers experiencing adverse reactions from eating the product.
According to the Food Safety and Inspection Service, people can begin to feel ill about two to eight days after consuming the infected product. Symptoms include diarrhea and vomiting and, in some cases, it can lead to more serious infection.
The Food Safety and Inspection Service advised customers and distribution sites to immediately stop using the product and throw it away or return it.
Copyright 2023 Gray Media Group, Inc. All rights reserved.