Subtropical storm Don forms in open Atlantic waters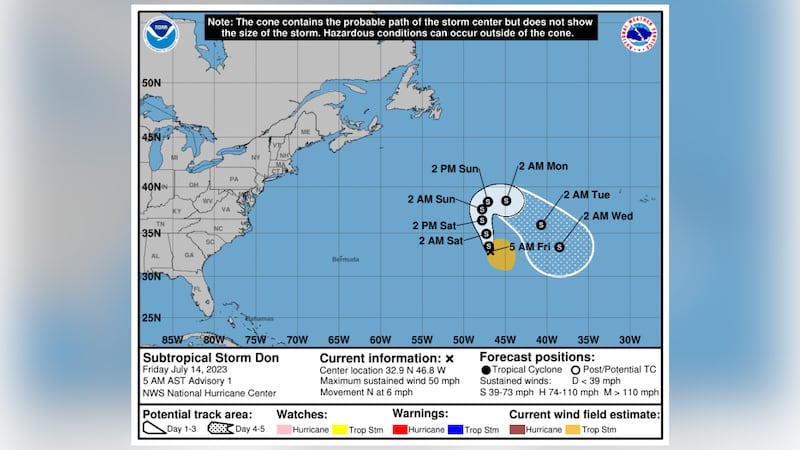 Published: Jul. 14, 2023 at 8:37 AM CDT
SAN JUAN, Puerto Rico (AP) — Subtropical storm Don formed in open Atlantic waters on Friday, posing no threat to land, according to the National Hurricane Center in Miami.
The storm had maximum sustained winds of 50 mph (85 kph) and was moving north at six mph (nine kph). It was located about 1,165 miles (1,875 kilometers) west-southwest of the Azores, a cluster of islands west of Portugal.
Don is forecast to turn east on Sunday and weaken in upcoming days.
A subtropical storm tends to have a wide zone of strong winds farther from its center compared with a tropical storm, which generates heavier rains, according to the U.S. National Weather Service.
The Atlantic hurricane season officially runs from June 1 to Nov. 30.
EDITOR'S NOTE: An earlier version incorrectly stated that Don is the fifth-named storm of the season.
Copyright 2023 The Associated Press. All rights reserved.