Drunk driver sentenced after injuring former TV anchor in crash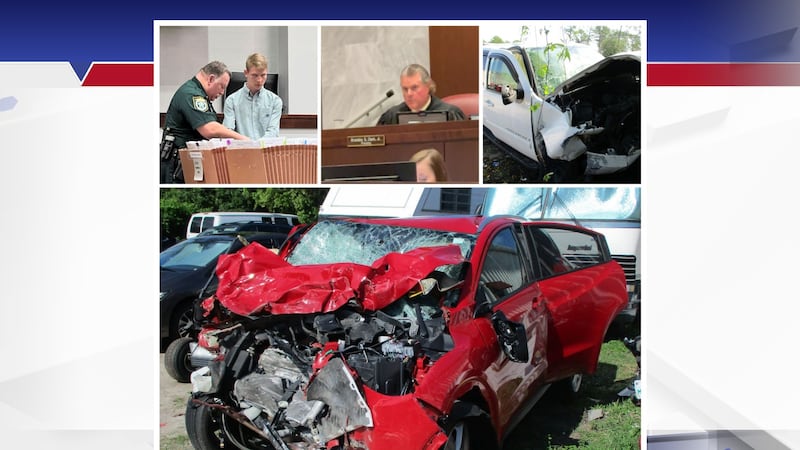 Published: Jul. 21, 2023 at 5:58 PM CDT
PANAMA CITY BEACH, Fla. (WJHG/WECP) - A man has been sentenced to three years in prison for driving drunk and critically injuring a woman, according to the State Attorney's Office.
In May 2021, former WMBB-TV reporter Tess Rowland was headed to work eastbound on Panama City Beach Parkway. Prosecutors say the defendant, identified as Jacob Savage, had turned west into the eastbound lanes and hit Rowland head-on, destroying the car.
Though Savage was not injured, tests showed his blood-alcohol content was 1.5 times the legal limit.
Officials say Rowland had to have multiple surgeries for the damage to her right shoulder and leg, is preparing for a shoulder replacement, and still cannot lift over 5 pounds with the arm.
In Rowland's statement, she said she'd never forgive the defendant but would pray for him for the sake of others.
"You may be serving three years, but you, Mr. Savage, have handed me a life sentence," Rowland said in court. "There isn't a day I don't live in pain, see my scars and shutter, or replay the final moments of the crash in my mind. All because you had to celebrate your 22nd birthday."
In addition to the prison sentence, Circuit Court Judge Brantley Clark gave Savage 6 years probation, his driver's license was suspended for a year after he served his prison sentence, and he must perform 250 hours of public service work.
Rowland was involved in the plea process and agreed with the resolution.
Copyright 2023 WJHG. All rights reserved.