Hurricane Lee generates big swells along northern Caribbean while it churns through open waters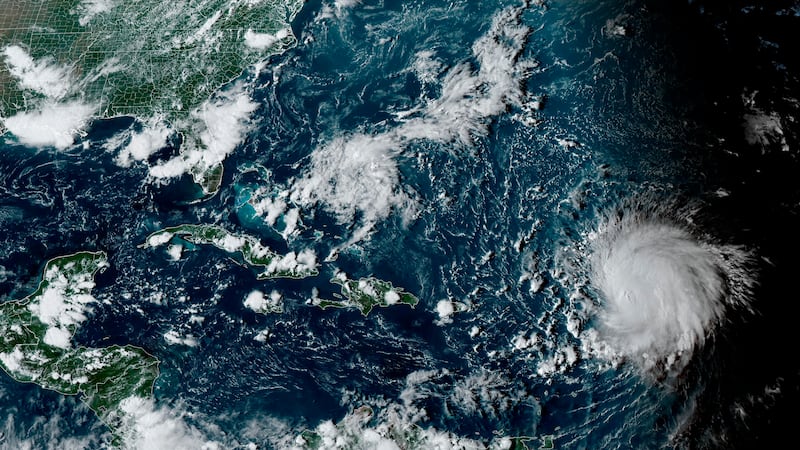 Published: Sep. 10, 2023 at 6:34 AM CDT
|
Updated: Sep. 11, 2023 at 10:03 PM CDT
SAN JUAN, Puerto Rico (AP) — Hurricane Lee whipped up waves of more than 15 feet (5 meters) on Monday as the Category 3 storm cranked through open waters just north of the Caribbean region.
The storm is not expected to make landfall this week, although forecasters said residents of New England and nearby areas should keep a close eye on Lee, which was predicted to slowly turn northward later in the coming days.
The storm was located about 410 miles (655 kilometers) north-northwest of the northern Leeward Islands, according to the National Hurricane Center. It had maximum sustained winds of 115 mph (185 kph) and was moving northwest at 7 mph (11 kph).
The center said Lee is likely to pass just west of Bermuda late Thursday and Friday and be located offshore of the mid-Atlantic states and New England by the end of the week.
"Although Lee is expected to weaken later in the week, it is expected to significantly increase in size and hazards will extend well away from the storm center," the agency said.
Bermuda could experience wind, rain and high surf, but "it is too soon to determine the specific timing and level of those impacts," the center said.
A high surf advisory was in effect for Puerto Rico and the U.S. Virgin Islands, with the National Weather Service warning of breaking waves of up to 15 feet (5 meters) for north and east-facing beaches.
The National Hurricane Center also warned of dangerous surf and rip currents for most of the U.S. East Coast this week, but what the hurricane might do beyond that is unclear.
"It remains too soon to know what level of additional impacts Lee might have along the northeast U.S. coast and Atlantic Canada late this week and this weekend, however, wind and rainfall hazards will likely extend well away from the center as Lee grows in size," the center said.
Lee strengthened from a Category 1 storm to a Category 5 storm last week in the span of 24 hours before weakening slightly.
Lee is the 12th named storm of the Atlantic hurricane season, which runs from June 1 to Nov. 30 and peaked on Sunday.
In August, the National Ocean and Atmospheric Administration updated its forecast and doubled the chance to 60% for an above-normal hurricane system. Between 14 and 21 named storms are forecast, with six to 11 predicted to strengthen into hurricanes. Of those, two to five are forecast to become major hurricanes — storms that are in Categories 3, 4 or 5.
Also swirling in the open Atlantic was Hurricane Margot, which became a Category 1 storm Monday afternoon. The fifth hurricane of the season was located nearly 1,300 miles (nearly 2,100 kilometers) northwest of the Cabo Verde islands. It had maximum sustained winds of 80 mph (130 kph) and was moving north at 12mph (19 kph). It was forecast to remain over open waters.
Copyright 2023 The Associated Press. All rights reserved.