Cloudy today, sunshine returning soon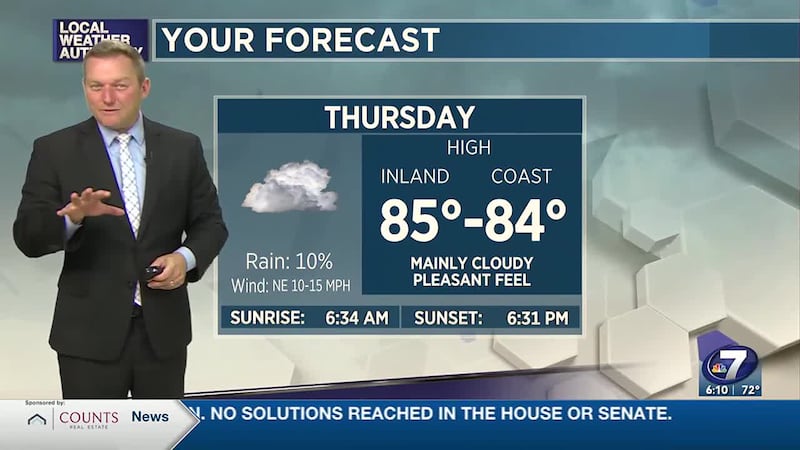 Published: Sep. 28, 2023 at 7:25 AM CDT
PANAMA CITY, Fla. (WJHG/WECP) - Good Thursday morning everyone!
It's a quiet start on radar despite some showers to our south in the Gulf casting cloud cover overhead. We'll see most of the rain remain offshore with the exception of a stray shower on the coast this morning.
The clouds help to slow our warming this morning. We're off to a pleasant start with temperatures very comfortable in the low 70s. We'll only warm to the mid 70s through the morning drive. With a light northeast breeze, some may want a light outer layer to start the day if you're susceptible to feeling chilly.
The clouds keep temperatures down throughout the majority of the day. We'll only warm into the low to mid 80s for a brief hour or two this afternoon.
A stalled-out front to our south has been responsible for the unsettled skies for much of this week. We'll see the front slide a bit further south today and tomorrow. That will help eliminate rain chances for the rest of the week and weekend.
Gradually a ridge of high pressure across the Mid-Atlantic states will nose down into the Southeast to help return some sunshine to the forecast tomorrow. We'll see more open up over the weekend. Temperatures will respond to the sunshine with afternoon highs returning to the upper 80s.
Bottom Line...
For today, mainly cloudy skies with little to no rain chance outside a stray shower on the Forgotten Coast. Highs today only reach the low to mid 80s. Your 7 Day Forecast has skies turning partly sunny on Friday with more sunshine and pleasantly warm highs in the upper 80s for the weekend.
Copyright 2023 WJHG. All rights reserved.