Foodie Friday with 'The Polished Chef'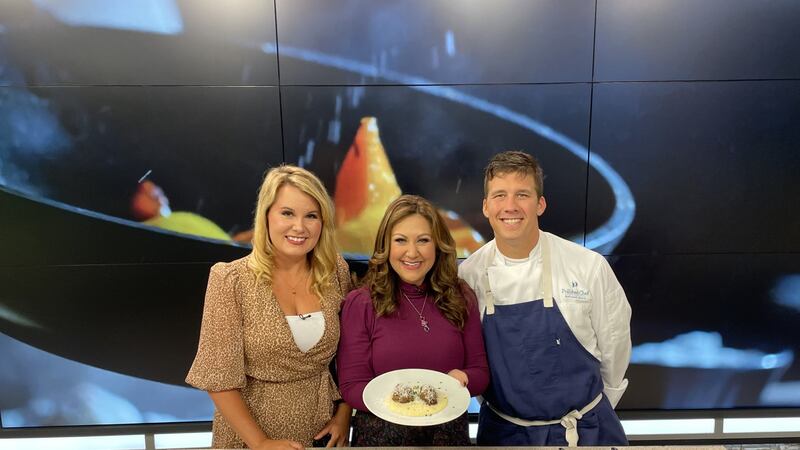 Published: Oct. 13, 2023 at 12:40 PM CDT
PANAMA CITY BEACH, Fla. (WJHG/WECP) - On the Friday Oct. 13 edition of NewsChannel 7 Today's 'Foodie Friday,' we featured chef Nathan Davis with The Polished Chef. They offer "an elegant culinary experience in the comfort and privacy of your home," according to Instagram.
Connect with The Polished Chef on Facebook here and Instagram here.
On NewsChannel 7 Today, Chef Nathan cooked delicious meatballs and polenta.
Here is the recipe:
Meatballs:
• 4 slices white bread, crusts trimmed • 3/4 cup milk • 1 pound ground wagyu • 1 pound ground mild Italian sausage, • 1/2 cup finely shredded Parmigiano Reggiano • 1/2 cup chopped white onion • 2 tablespoons minced fresh parsley leaves • 3/4 teaspoon salt, plus more for seasoning • 3/4 teaspoon freshly ground black pepper • 2 cups chopped yellow onions • 1 teaspoon crushed red pepper. 1tablespoon dried oregano 1 tablespoon dried basil
Cut bread into cubes and add milk allowing bread to absorb.
Mix all ingredients together in bowl and form into 12 balls just smaller than a baseball. In a nonstick Sear on all sides on medium heat then transfer to oven at 350 for 12 minutes until internal temperature is 165.
Polenta:
2 cups chicken stock 1.5 cups heavy cream 1 cup polenta Add stock to pot and bring to boil, then add polenta, whisk until it sets then slowly add cream while whisking. Once all cream is added
Let sit for 15-20 min on low until polenta is tender. Add 1/2 cup freshly shredded parm. Depending on saltiness of stock and parm additional salt may not be needed.
Copyright 2023 WJHG. All rights reserved.