Liberty Volleyball Departs for 2nd Straight Final Four in Lakeland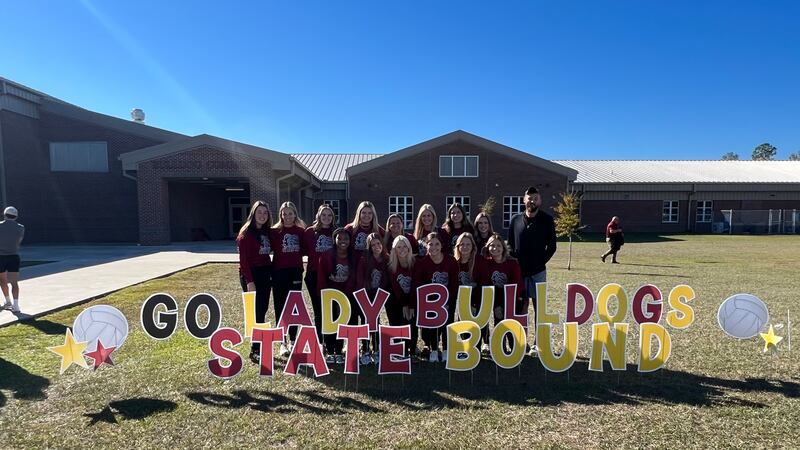 Published: Nov. 5, 2023 at 5:43 PM CST
PANAMA CITY, Fla. (WJHG/WECP) - Earlier this morning, the Liberty volleyball team, fresh off their regional final win over Blountstown last Tuesday, begun their trip down to Lakeland for the state tournament.
The Lady Bulldogs, who went 21-6 this season, are the reigning 1A State Champs running through Williston and Baker in last years final four to secure their first state title in program history.
Their first opponent thisyear, those same Baker Gators, who by now, are a pretty familiar opponent for Coach Jennifer Sewell and her girls.
Baker the team Liberty beat in last year's state title game, but the Bulldogs also faced them this season, back in the preseason, winning in straight sets; but coach said that doesn't mean they can go ahead and just pencil in another championship game appearance. They're focused on taking it one game and one goal at a time!
"We've got to get past Baker first. We played them earlier in the year, but that doesn't mean, you know, teams can change. Like I said, we kind of peaked at the right time at the end of the year. So, we don't want to look too far ahead, that's our main goal we talk about every year. You know, checking off certain teams. Number 1 goal was to win district, did that. Next goal, win regional semifinals, did that. Then next, win a regional championship, did that. So, we're just taking it game by game, marking things off. Like I said, don't want to overlook a team because now it's win or go home time", siad Coach Sewell.
That game Monday at 10am.
Copyright 2023 WJHG. All rights reserved.