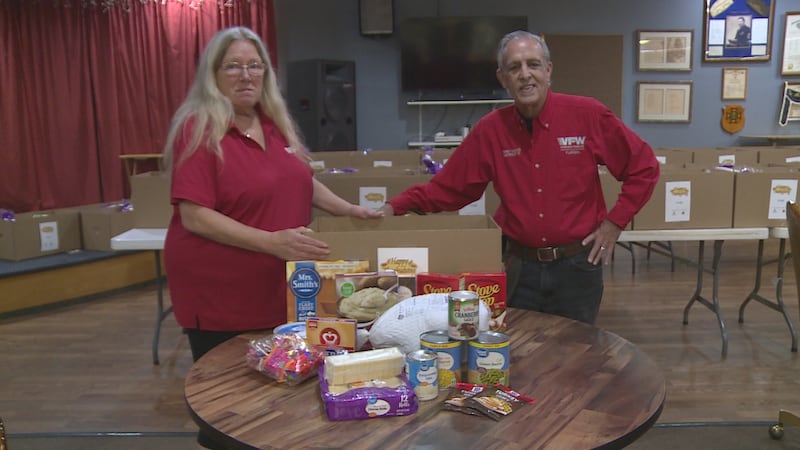 Published: Nov. 20, 2023 at 1:20 PM CST
PANAMA CITY, Fla. (WJHG/WECP) - With thanksgiving around the corner, these vets are making sure their fellow service brothers and sisters will enjoy a great meal this holiday season.
The Veterans of Foreign Wars Post 8205 in Parker started delivering 70 Thanksgiving dinners on November 20th. The boxes included holiday essentials such as a turkey, sweet potato pie, rolls, stuffing, and a lot more.
These meals were delivered to vets and their families who might not be able to afford a big meal this year.
This marks the 20th year the VFW Post 8205 has helped feed other veterans during Thanksgiving.
A former military commander says, with the cost of food increasing every year. This time of year, is always good time to step in to help ease some of the financial burden.
"Every year it seems to get a little bigger. I think now with inflation and our economy, there's families that are a little bit more strapped than they used to be." said the District 17th Commander and Veterans of Foreign Wars. "So it's time for us to step in and assist them."
The post 8205 is the oldest combat veteran's unit in the United States; it was created in 1809 from returning veterans of the Spanish and American War. The retied soldier led nonprofit will also host a big thanksgiving dinner on Thursday afternoon. During the dinner they will celebrate the veterans of World War II, Korea, and Vietnam War.
If you would like to donate to this nonprofit organization, you can drop a check off to their building in Parker. The address is 35 S Hwy 22 A. For more information on how they help serve the community click here.
Copyright 2023 WJHG. All rights reserved.