Walton County looking for solutions to help ailing trees at Grady Brown Park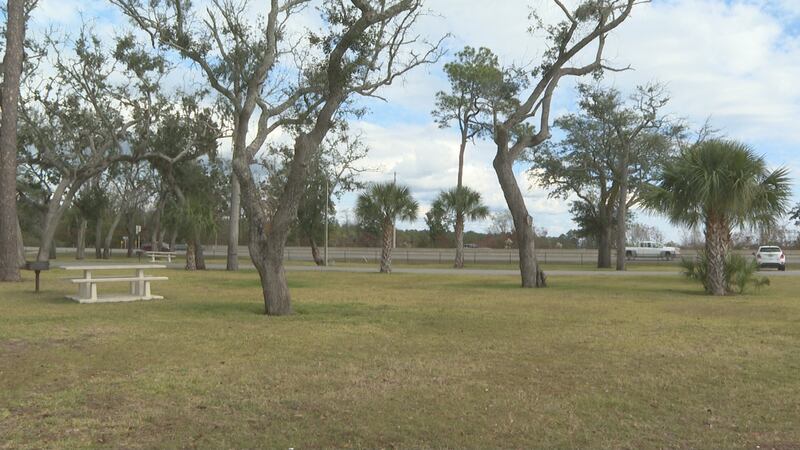 Published: Nov. 20, 2023 at 9:40 PM CST
WALTON COUNTY, Fla. (WJHG/WECP) - There are some rising concerns about some of the trees at Grady Brown Park in Walton County.
Many of the live oak trees in the park currently have very few leaves on the branches. On a phone call, University of Florida IFAS Walton County Extension Forestry Agent Ian Stone told NewsChannel 7 the live oaks are evergreen trees and are meant to hold onto their leaves year-round. He said the fact that the trees are looking barren is a sign of sickness.
Stone was called on by the county to go out to the park and evaluate the trees. He confirmed that they are in desperate need of care.
"There are definitely issues with some of the trees out there," Stone said. "Clearly old wind damage and things like that that probably date back to hurricanes and windstorms, and things like that. Looking at the trees, they don't look all that great. And as soon as I took a probe and pushed on it, the wood looked kind of sound, but all of a sudden- it's rotten up under."
Stone said protecting these trees is an important part of keeping the environment around us healthy.
"That park is close to a shoreline, and the trees and plants are good to help keep that stable. That's part of our natural ecosystem, so it preserves that as well," Stone said.
The county is actively seeking outside help from experts to get a plan in place to see how many of these trees can be restored, but only time will tell just how many of these trees can be saved.
Stone added that there are things people visiting parks can do to protect the plants there:
Never leave trash

Never carve into trees or leave ropes hanging on branches

Never park directly under trees, as it can severely damage the roots over time
UF/IFAS Extension Services are offered to all Florida residents in each county for free. Agents are available to answer any questions or provide resources involving forestry, gardening, landscaping, and more.
Copyright 2023 WJHG. All rights reserved.