Dream come true: 36-year-old Alabama man experiences beach for the first time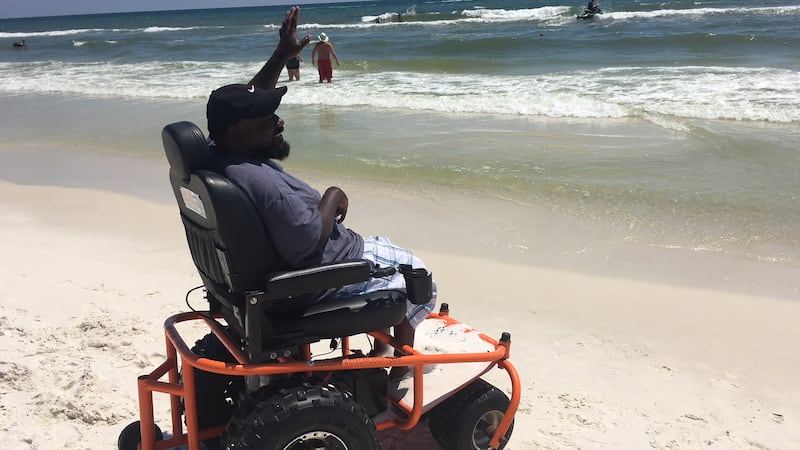 Published: Jul. 24, 2018 at 6:44 PM CDT
Living on the emerald coast, many of us take the beach and all its beauty for granted, but for one Alabama man who's been waiting his whole life, a day at the beach was a dream come true.
For as long as he can remember, 36-year-old David Thomas dreamed about going to the beach.
"It was a place I always wanted to go," he told us.
Thomas was born with cerebral palsy and thought he would never have a chance to see the water for himself.
"It took me years to get here but God made a way for me to get here," Thomas said, "I never imagined it looking like this, but it's beautiful. I love it and don't want to go home."
Visiting Panama City Beach with his church family, Thomas said if it weren't for their kind hearts, he may have never been able to feel the Gulf's breeze.
"By you being disabled, you just don't find too many people that take out time with you and willing to help you," Thomas tearfully said. "I just feel so good because I haven't been anywhere since I was 15 years old so I'm having the time of my life right now."
Only leaving his home county of Jefferson, Alabama one other time in his life, Thomas said this is trip he'll hold onto for the rest of his days.
"I never really go anywhere so it's just like a dream come true," he expressed. "This one moment I'll never forget. No matter how old I may be, I will never forget this."
Feeling the sand between his toes for the first time and hearing the soft sound of crashing waves, a flood of emotion came over him.
"I'm about to get emotional now, but I ain't gonna do it," he said.
But through the tears of happiness, was a smile he couldn't wipe off his face.
"If I never experience this again, I'm going to enjoy it right now and live in the moment and thank God for what it is," Thomas proclaimed.
He said he hopes to be an inspiration to others to never give up on their dreams.
"I have been in a wheelchair all my life. I pretty much have been [in] Bessemer all my life. I've never been able to walk. I've always been in a wheelchair and, you know, I just try to make the best of my life, the best of my situation. Thank God for whatever it is because I realize that it could always be worse," he said. "If there is anybody in a wheelchair looking at this: never give up on your dreams."
Thomas said now that he can check the beach off of this bucket list, his next hope is to one day make it to Disney World.