FEMA trailers stored at Texas airport being auctioned off for a fraction of what they cost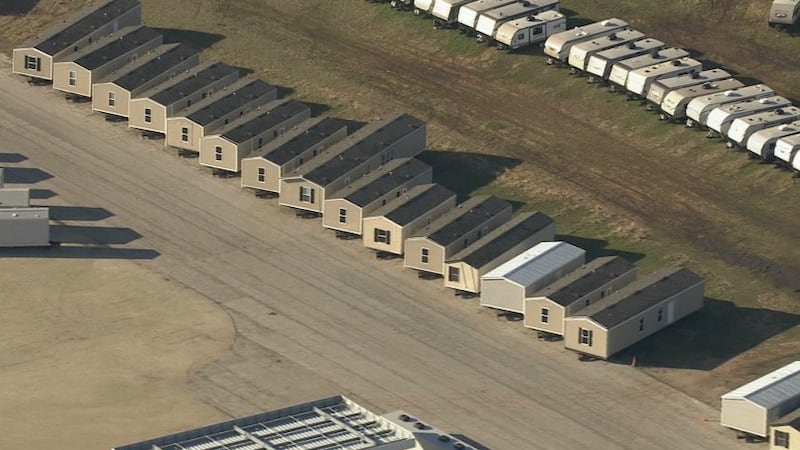 Published: Feb. 11, 2019 at 9:23 AM CST
In the wake of Hurricane Harvey, thousands of manufactured homes were shipped to and stored at the Hearne Municipal Airport where they would be inspected before being shipped to families in need.
Fast forward to almost two years later and the trailers are still there -- for now.
"We're definitely okay with them being here. As long as they want to stay, they can," said John Naron the city manager of Hearne.
Naron says partnering with FEMA has benefited Hearne in several ways.
"The whole process has been really good for the city. It's brought in a lot of jobs and it's actually brought a lot of recognition to our town," said Naron.
The airport alone has received close to $2,000,000 worth of improvements made by FEMA, but the lease with the airport is up in April.
FEMA is now in the process of selling the leftover trailers to the public via online auctions.
KBTX has learned the trailers that reportedly cost FEMA around $65,000 each, are now being sold on a government auction website with bids starting as low as $100.
"We're going to miss them, like I said they've been great to us but they've set us up to be able to attract economic development," said Naron.
Statement from FEMA spokesperson:
FEMA periodically sells surplus housing units. Like other government agencies with surplus materials, FEMA works with GSA to auction surplus MHUs. FEMA has found that even manufactured homes that were never occupied, but stored for several years, will contain materials and products that begin to fail with time. Internal adhesives may fail after many hot/cold weather cycles, and natural deterioration occurs for asphaltic roofs and other internal and external components. Concurrently, FEMA is receiving new MHUs from factories and previously owned units from disaster survivors, resulting in staging areas filling up quickly. To balance the requirements of multiple disasters in different geographic locations, and weigh the cost of managing the supplies, FEMA will resume MHU sales activity. FEMA has run cost benefit models comparing refurbishment/re-use vs. the cost of selling an MHU. The results typically do not present a positive outcome for re-use when weighed against the distance travelled and the length of time a unit is occupied, which maybe up to 18 months. For specific number of units sold and/or prices on GSA, we refer you to GSA.