Governor Rick Scott in Panama City Beach urges residents to be prepared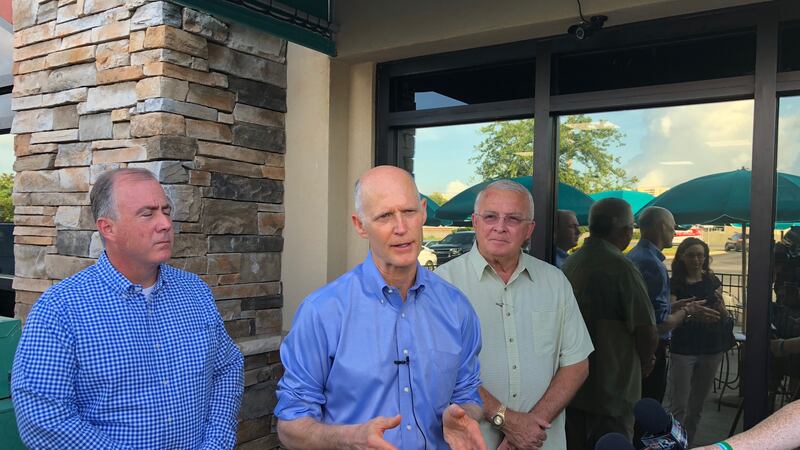 Published: May. 25, 2018 at 5:44 PM CDT
In preparation for Subtropical Storm Alberto, Florida Governor Rick Scott came to Panama City Beach Friday to make sure not only our officials, but also residents are ready for anything this storm might bring.
"As you know we have a storm brewing that is heading in this direction. We are following it with the national hurricane center," Governor Scott said.
With Alberto on the horizon and hurricane season near, the time to prepare for weather emergencies is now.
"I don't think we're going to have a problem but everyone needs to watch the weather in case something happens," Panama City Beach Mayor Mike Thomas said.
"It's early in the season but it's a good time for us to look at our preparedness plans both as the sheriff's office and as services in the county as well as an individual basis to make sure they are prepared for storms as they come up it's something that's kind of a regular drill here in Florida," Bay County Sheriff Tommy Ford pointed out.
Governor Scott held a press conference letting the public know important information.
"All of us have to continue to follow the weather for the next few days as it looks like we will get a significant amount of rain. We have a chance for some severe flooding," Scott said, "we are walking into hurricane season, everybody needs to get prepared."
Daily conference calls between emergency operations, the National Weather Service, and the Hurricane Center will keep everyone alert if the storm develops.
"We have already moved some high water vehicles up to the panhandle from Fish and Wildlife," said Scott. "We are staying up with all the agencies to make sure everyone is prepared to make sure that if we have this fair weather that everybody is going to be taken care of."
"We have not had a hurricane in many years and we're doing very well up here but you have to be prepared.
One point officials are stressing is to stock up on your weather emergency supplies, that means at least three days worth of food and water.
"You know people pay attention to that and don't get complacent to that. Stock up on the couple of supplies they need come up with a family plan and know that they're plugging them selves into the information resources that are necessary to keep track of during the storm," Sheriff Ford said.
They also are reminding residents to make sure you have your medications filled and an evacuation plan, just in case.
Heavy rain and flooding are some of the main concerns, and as usual officials advise residents to take action before a disaster happens.
"A tool here in Bay County, it's called AlertBay and it's how we, along with emergency services, push information out to the public in the storm. Both in regular updates as well as shelter information and things like that. They can sign up for that and alert Bay.Org. Very easy process and the good thing about that is that system is also what we used at the Sheriff's office for instants during the active shooter situation, you know we pushed out information to a mile radius from that scene to let people know what was going on there. So not just weather events but any kind of Public Safety or emergency information Alert Bay is what we use for that."
For steps on how to prepare for flooding, visit the link attached to this article.