Jimmy Patronis on new role, running in 2018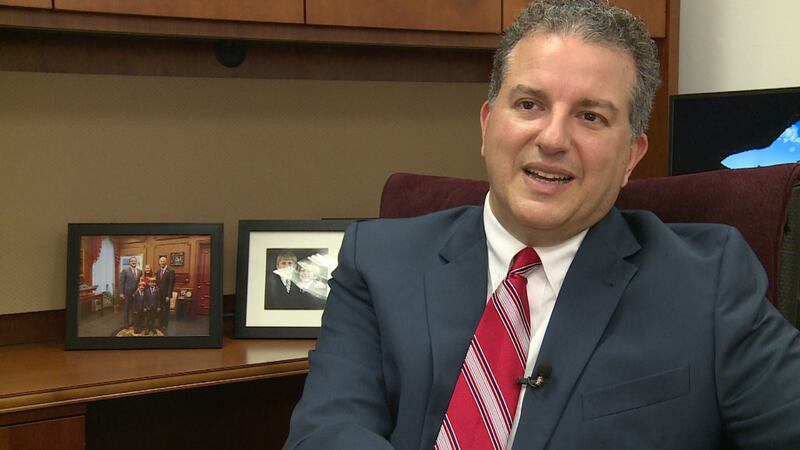 Published: Aug. 30, 2017 at 4:45 PM CDT
Wednesday marked two months since Panama City's Jimmy Patronis became Florida's Chief Financial Officer.
Eight weeks in, and he's putting the finishing touches on his Panama City office.
"I get up every morning with just this passion and urge to want to be the best CFO I can for the state of Florida," Patronis said.
As the business manager for the state--as he likes to call it--he's drawn on his former experience running Captain Anderson's restaurant. Only now, he says, it's on a much larger scale.
"As we're running the paces there, that compliments a lot of what I was doing at the restaurant," he said. "You know, we had the same workman's comp issues at Captain Anderson's, as we do at the state, just multiply it by a thousand."
As far as challenges go in Florida's future, right now, he's focused on the growth the state is making.
"There's a fantastic element in place of businesses that want to relocate here create jobs," Patronis said. "At the cabinet level, the agencies that I've got jurisdiction over, we've been driving down the cost of money, simply due to refinancing our state debt."
In the new role, Patronis has found unwavering support from Governor Rick Scott. Scott has gone all-in politically for Patronis, a rare move for a governor.
"You know, it's humbling. He's a mentor. Governor Scott has found a friend in me; I know I have found a larger-than-life and friend in my world, from him," he said.
Patronis was an early supporter of Scott, dating back to when Scott was running for governor in 2010.
"That primary election that he won in 2010, Bay County came out for him harder and heavier than any other county in the state," Patronis said. "So I always remind him of that whenever I introduce him. But I can't say enough about what he's done for me, Northwest Florida, and this state."
Though the deadline to file to run for CFO isn't until June of next year, Patronis says he will have his mind made up before the end of 2017.
"My intention is to make a decision soon. But I am excited about the opportunity the governor is giving me," he said. "I would say I would make up my mind in the next 30 days."