Killer Seafood reopens with a killer comeback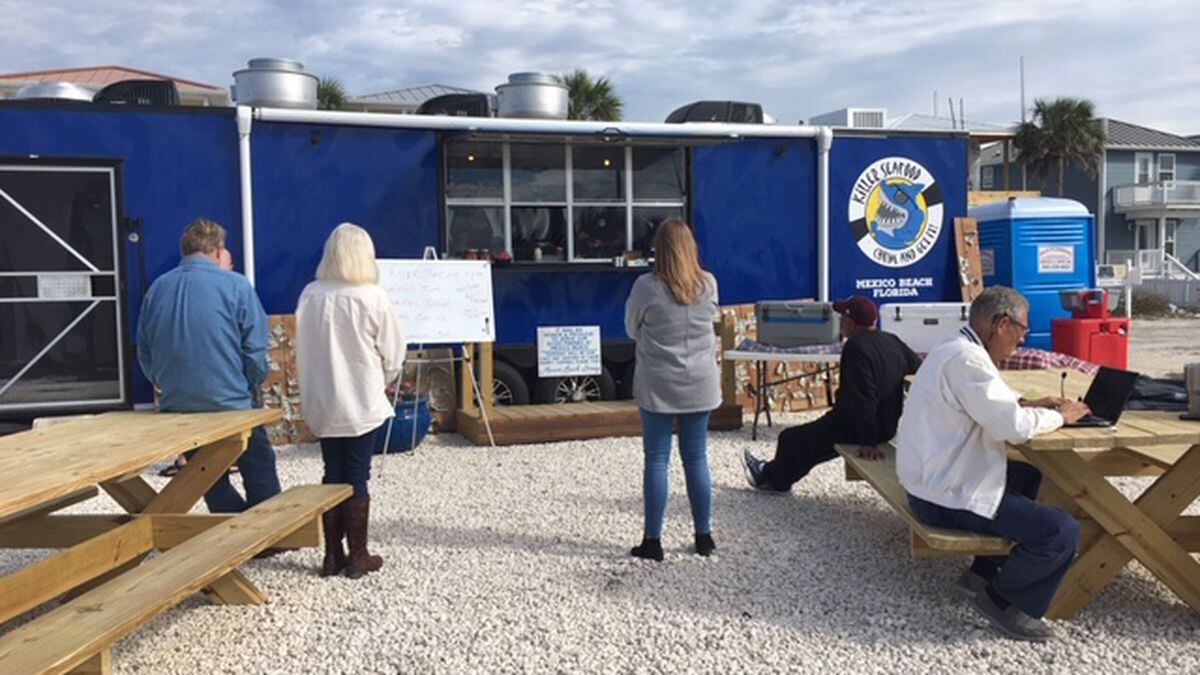 Published: Dec. 30, 2019 at 6:09 PM CST
The sound of food cooking in the kitchen is something Killer Seafood Owner Kevin Crouse has been waiting more than a year to hear.
"Just 15 very successful years and then we had an interruption and it's taken a bit of a journey to get back to where we are today," said Crouse.
An interruption, which blew away the restaurant's building.
Hurricane Michael took away the brick and mortar of Killer Seafood, but it couldn't take away the determination to come back; this time, on wheels.
The restaurant is now mobile with an outside sitting area.
"It's less overhead, and you know we're able to just hit the ground running," said Crouse.
Locals and visitors are running back to this familiar eatery, with more than a hundred people gathering for the reopening.
"We're so glad to see it's coming together," said area visitor Laurie Benefield.
"It has to be here. It's not Mexico Beach without Killer Seafood," said visitor Mike Benefield.
Mexico Beach officials say Killer Seafood's opening is one of many staples coming back to the area.
"It's you know blank slate, you can write your own story and we're just excited we've got more restaurants that'll be coming open, we'll have the El Governor RV Park back online soon as well as hotels and motels," said Kimberly Shoaf, the Mexico Beach Community Development Council President.
So far, a handful of restaurants popular before the storm have rebuilt in Mexico Beach, a welcome sign to locals.
"It means a lot, you know this hurricane was so huge and it was so devastating to the town, so every time we see some progress happen, it's like a step forward," said Local Julie Krouse.
Crouse says a comeback this killer, wouldn't be possible without those around him.
"I kind of have to pinch myself. Once we had the support of the community there was no looking back, and what this shows me today is that we still have the support and we're going to do everything we can to you know provide and help bring Mexico Beach back."
Crouse and Killer Seafood are proving a category five storm is just an interruption for this resilient community.
Copyright 2019 WJHG. All rights reserved.