Local museum spotlights landmark U.S. Supreme Court case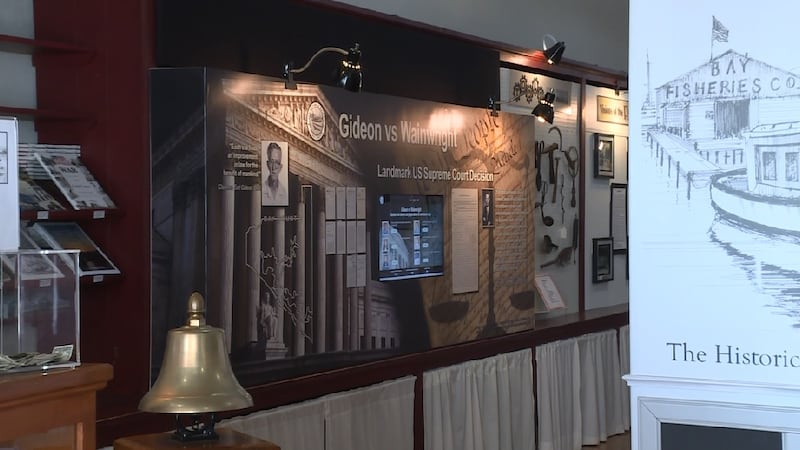 Published: Jan. 23, 2020 at 8:37 PM CST
In the shadows of the WestRock paper mill in Panama City sits a seemingly unremarkable parking lot. But in this lot near the corner of Everitt Avenue and Cherry Street lie the origins of a landmark U.S. Supreme Court case.
"This particular event probably is the most historical event ever to occur in Bay County," said Kenny Redd of the Historical Society of Bay County. "What started out as a simple arrest, in the end, turned out to affect everyone in the nation."
The case is Gideon v. Wainwright, and where the lot sits today once stood the Bay Harbor Pool Room.
"As a resident of Panama City in 1961, he [Clarence Gideon] was arrested for larceny," said Redd "He was accused of breaking in the Bay Harbor Pool Hall [Room] and stealing change from the cigarette machine and the jukebox."
Gideon was arrested and appeared in court.
"When they showed up for trial, he [Gideon] was standing there at the docket by himself. The judge asked him where was his counsel? He said, 'Well, I don't have a counsel,'" Redd explains.
Gideon went on to represent himself at the Bay County Courthouse. A jury found him guilty and he was sentenced to five years in state prison.
While locked up, in a hand-written petition to the United States Supreme Court, Gideon claimed the Constitution allows him the right to an attorney if he can't afford one, even in non-capital cases.
"And he went from having no lawyer at all to having the very best, the most renowned lawyer in the United States at the time, which was Abe Fortas," said Redd.
The Supreme Court took the case in 1963 and Fortas argued on Gideon's behalf. In a nine-nothing ruling, Gideon prevailed. His original case was sent back to Bay County for a retrial where he was found not guilty and set free.
The decision was so far-reaching a book and later a made-for-TV movie starring Henry Fonda as Gideon called "Gideon's Trumpet" chronicled his plight.
"It is such an important event," said Redd. "And the fact that it occurred in Bay County I believe needs to be promoted so that all residents of our area should learn the news about what happened back in the early 60s regarding Gideon v. Wainwright."
And that's exactly what the Historical Museum of Bay County in Downtown Panama City has done.
"We had a grand opening and a reception where we premiered this exhibit and the reception was wonderful," said Redd. "Clarence's son even attended the opening."
Redd says the new exhibit will most likely be on permanent display, a reminder to all residents and visitors what happened here in Bay County
set many innocent people free.
Here's what then-Attorney General of the United States Robert F. Kennedy said about Gideon:
"If an obscure Florida convict named Clarence Earl Gideon had not sat down in his prison cell with a pencil and paper to write a letter to the Supreme Court, and if the Court had not taken the trouble to look for merit in that one crude petition ... the vast machinery of American law would have gone on functioning undisturbed. But Gideon did write that letter, the Court did look into his case ... and the whole course of American legal history has been changed."
A marker outside the Bay County Courthouse recognizes the landmark decision.
Copyright 2020 WJHG. All rights reserved.