Owner talks about 'miracle' hot tub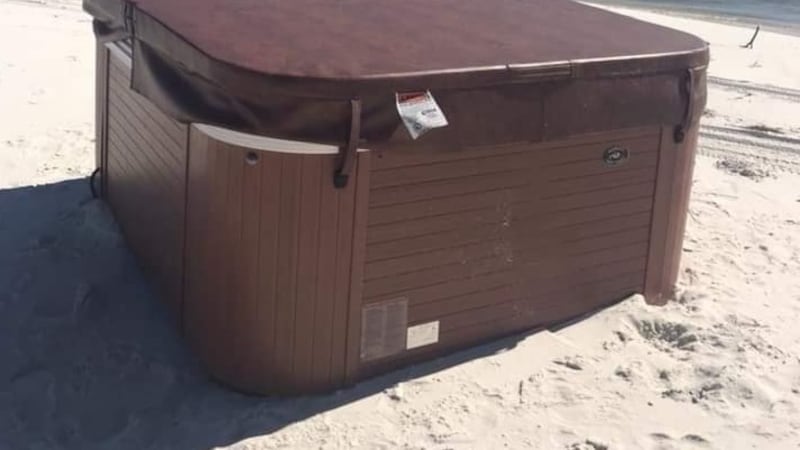 Published: Nov. 15, 2018 at 3:28 PM CST
Hurricane Michael pulled no punches. The category four storm left many without a home, a job or even hope.
For one man who owns a vacation home on St. George Island, he doesn't in any way want to make light of other's misfortunes, but he did take a moment to find a small bit of levity in his loss.
"We could see our house, at least see that it wasn't blown away," said David Coston. "But the day that we got here and we drove up in the driveway, then I realized, wait a minute, our hot tub's not here."
Gone without a trace!
"I got to spend one night in it," said Coston.
But where did it go?
"We kind of thought that it might be across the street because that's where a lot of our other stuff wound up," said Coston.
Nope, not across the street! Did looters take it?
"One day we were looking on Facebook because there's a St. George Island Facebook page and somebody said, 'Hey, did anybody lose a hot tub? We were boating over at Dog Island and we saw one on the beach.' And they showed a picture of it and it was our hot tub," said Coston.
Wait! What?
"My neighbor down the street stayed here during the hurricane and she was watching out her window during the storm surge and she saw our hot tub float by on Sawyer Street by her house, and then it went out into the bay," said Coston.
Dog Island is more than 20 miles away. The tub was full of water and still had the cover on it when it was found. We're told the cabinet only received a few minor scratches.
"Before we left, I put six ratchet straps across the top of the hot tub cover to keep the cover from blowing away in the wind never thinking that the hot tub itself would float away," said Coston.
Many of us like to relax in hot tubs, but who knew hot tubs need to get away for a little R&R of their own!
"There's different people over there [on Dog Island] that stop by every once in a while, and they post a picture on Facebook," said Coston. "In fact, a guy posted a picture the other day. He was actually sitting in the middle of it. And he said, you know, this is where we're relaxing on the bay here."
Unfortunately, the hot tub could not be saved, at least by Coston. He said saltwater most likely damaged the electronics.
We stopped by Tropical Spas and Pools in Panama City where Coston bought his hot tub and went back recently to buy a replacement.
"We talk about it all the time when people want to come in here and get a rental spa for their rental house. I always tell them, hey, buy a Nordic. They're indestructible," said Tropical Spas and Pools President Mark Dabney. "So it just goes to prove it's a cat. 4 spa and it did really well."
"With all the tragedy around us, everybody's looking for some good news and something that's funny," said Coston.
Coston estimates it was a seven-foot surge that swept the hot tub off his patio. He says his insurance did not cover the loss. He says he paid about $5,000 for his old tub in July and the same for the new tub a few weeks ago.