Oyster gardens aim to help rebuild local population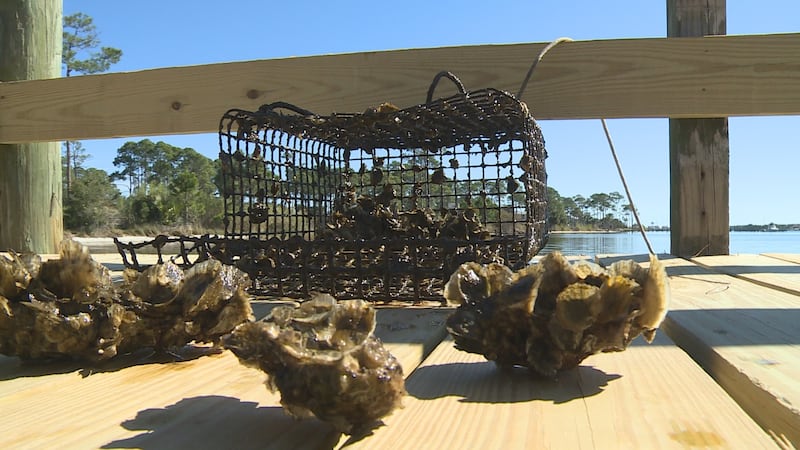 Published: Oct. 31, 2017 at 6:27 PM CDT
The gulf coast Panhandle is known for its abundance of marine life, but keeping the ecosystem healthy is a community effort.
Fortunately, living near the coast gives us an opportunity to get hands-on with when it comes to preserving our ecosystems and that's exactly what the Choctawhatchee Basin Alliance is counting on.
"I think that's one of the greatest attractions is the amount of wildlife we have and that we are fortunate to be surrounded by so much natural beauty and so it's exciting to be able to contribute to preserving that in some small way," Destin resident Jennifer McPeak said.
McPeak moved to the area 14 years ago and said one of her biggest passions is learning about the ecosystem right in her own backyard.
"It's the conservation through education message and it's true," McPeak said. "The more that we learned about oysters and how they support our ecosystem, the more intriguing it was and the more passionate we got about what we could do to help out."
She is one of 20 volunteers involved in the Choctawhatchee Basin Alliance oyster garden program.
"What we do is we will have volunteer community members who will have to grow oysters apply, and they will be put into our program. They will grow oysters in one of these cages off of their own personal docks for a whole year," CBA Education Technician Alison Jean explained.
You start off with a recycled oyster shell which over time attracts spat, which is known as juvenile oysters and eventually they turn into clusters.
"Weekly we pull the cages out, rinse them off, remove any barnacles, algae, anything that many foul the cage and just monitor the oyster growth to see if spats have attached, to see what kind of creatures are making their homes on the shells of the cage," McPeak said.
"They are specifically for restoration, not for consumption. That's very important," Jean added. "The more oyster gardeners we can get means the more oysters to go around for all the reefs and such that they build."
Each cage is said to grow anywhere from 100 to 250 oysters, each helping filter up to 50 gallons of water a day.
"They are a primary producer, so they are pulling nutrients from stormwater runoff into themselves and thus pushing out clean water," Jean said. "If the oysters were to be depleted in any way, it could cause an ecosystem collapse because there are so many different marine life and terrestrial life, for instance, raccoons or seabirds, that depend on the oyster and what it provides for either the predators or their prey."
The best part is, you don't need any environmental education background to participate.
"I think we are proof you can have absolutely no scientific background and CBA will give you the tools, they'll give you the time, they'll give you the pacience and they'll give you the encouragement to really discover your own passion for the environment," McPeak testified.
"We just want to enhance the water quality of those areas as well as enhancing the oyster population in the Choctawhatchee Bay with naturally set oysters from our bay," Jean said. "Hopefully soon that will produce more environmental stewards to help us along the way."
"You wouldn't think watching oysters grow would be that exciting, I mean grass grows faster, but it is. It's incredibly gratifying each week when you see more spat that has attached and the little oysters getting bigger and bigger and for me it's thrilling," McPeak said.
Oyster garden volunteers will grow their oysters for close to a year and eventually transfer them to one of the designated oyster beds in the Choctawhatchee Bay.
CBA is also looking for oyster allies to help oyster gardeners maintain their gardens.
If you're interested in helping with the oyster garden project, visit the link attached to this article.