Oyster shell reefs help restore Choctawhatchee shoreline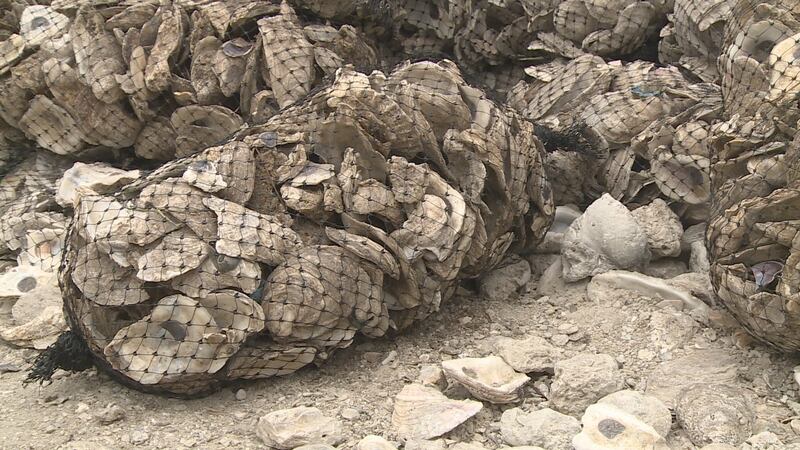 Published: May. 30, 2017 at 6:58 PM CDT
A local group is on a mission to protect and restore our shorelines. Tuesday, they begin their largest project yet.
"Shoreline erosion is a huge problem," explained Communications and Marketing Coordinator for the Choctawhatchee Basin Alliance, Erika Zembello. "When you have lots of boats going by, the waves break against the banks and it actually causes the land to fall away into the bayou."
That's, why volunteers from the Choctawhatchee Basin Alliance and other local organizations teamed up to help restore the bay. Collecting oyster shells from various restaurants throughout the community, they pile them high for one purpose.
"This is a really exciting project because it's a great partnership with Eglin Air Force base," Zembello said. "We are taking recycled oyster shells and we're creating a brand new oyster reef off one of the Eglin Reservation Bayous."
"We get about a hundred tons of oysters a year and then we take those and let them bleach out in the sun and get rid of any bacteria that are in them," said Ecology Technician, Riley Timbes. "And then we go ahead and put them in the water in our reefs to prevent erosion and create habitat for oysters and other little critters."
Each bag helps build a barrier that is intended to break the waves decreasing their energy before it hits the shore.
"So we build the reefs in a pyramid-like structure. The larger bottom and then the pointed top. And we build them so at high tide you have six inches of clearance. so you'll be able to actually see the oyster reef if you're kayaking or boating by," Zembello described.
"They're 20-foot breakwater sections with gaps between to maintain the flow of water and let marine life pass through, so this reef when it's through will be over 20 sections and each section is about 275 bags," said restoration coordinator for the Choctawhatchees Basin Alliance, Rachel Gwin.
"There have been a lot of studies that show these oyster reefs are more effective at reducing erosion than things like seawalls," said Zembello.
Ideally, these reefs will last in perpetuity, " she continued. "So oyster shells love to land on these hard substrates and so when you have the new oysters forming on these reefs, they cement the whole thing in place. And so with each successive generation of oysters, these reefs become more and more stable."
But these oyster reefs serve more than just protecting the shoreline.
"One of my absolute favorite things about oysters is that they are filter feeders," Zembello explained. "What that means is that each individual oyster has the capacity to filter up to 50 gallons per day per oyster so they effect they have on water quality in the bay is really, really impactful."
"Historically a lot of shell was removed from the area for roadbeds and things like that so this is giving back," said Gwin.
Relying solely on grant money, this project is powered by volunteers.
"Every volunteer who comes here learns through hands on experience how to build these oyster reefs and protect the bay's natural resources," said Zembello.
Zembello said once these project is done. it'll stretch 1,700 feet, which will be their largest reef to date.
If you are interested in becoming a volunteer, you can visit their website which is linked to this article.