Residents at St. Andrews Towers left homeless, full of questions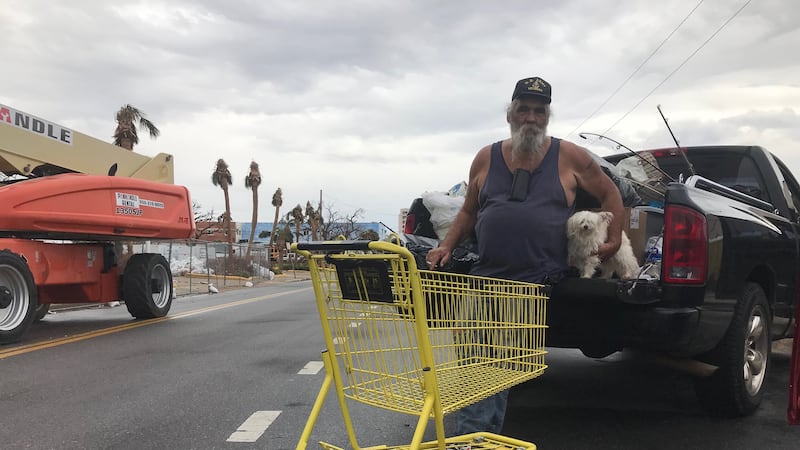 Published: Oct. 23, 2018 at 10:05 PM CDT
For people all across the Florida Panhandle, the last two weeks have been a struggle.
St. Andrews Towers is an apartment complex for seniors and people with disabilities that was evacuated before the hurricane hit. Now, residents are left to search, not only for belongings but a place to call home.
At this point, it's just Jimmy Wilson and his dog, Scrubs.
"Yep, that's my little buddy," said Wilson sitting on the back of his truck.
The two are left with almost nothing and a whole lot of unknown. For now, home for them has four wheels and their only bed is on the back of the truck filled with what little Wilson could save.
"Living in parks and stuff like that, that'll drive you crazy. It eats up the mind and it's stress on you and having this problem, don't need no more stress," Wilson said.
It's stress 225 others are going through, too. Everyone evacuated the building before Hurricane Michael hit.
Donna Golema has worked at St. Andrews Towers for years and said this is personal.
"My mother lived here and her unit was demolished," said Golema.
With belongings gone, new worries creep in.
"Your home is here, your home is there, your home is everywhere," said Wilson. "It'd be nice if FEMA [would] come on down and take care of business so I can find something else to do. Gotta find somewhere to hang out tonight," said Wilson.
WJHG/WECP has heard from people who live in the buildling, upset that important documents and personal items have been thrown away without their permission.
Management at the complex said if belongings are compromised at all they have to be tossed for health and safety reasons and that residents are being let into their apartments if and when apartments are safe to enter.