Restoring Walton County's rare coastal dune lakes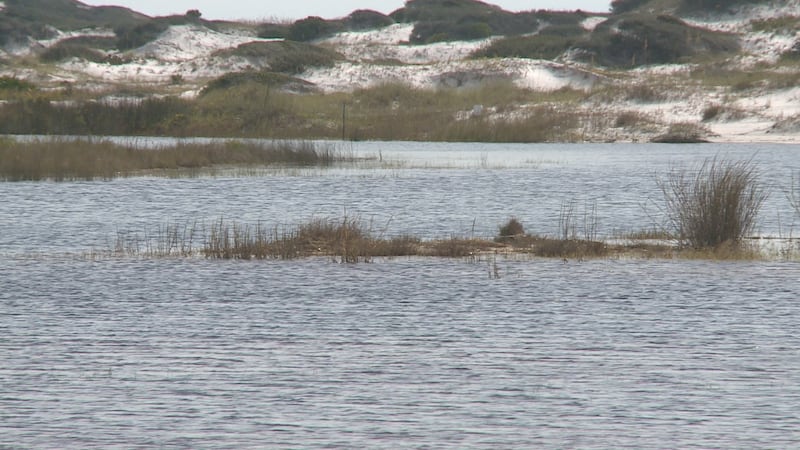 Published: Oct. 16, 2017 at 6:37 PM CDT
Walton County is home to one of the rarest ecosystems.
"[Coastal dune lakes] are only found in few in different places in the world and ones in Walton County are believed to be unique from those other locations," said Choctawhatchee Basin Alliance Monitoring Coordinator, Bandy Foley.
With 15 coastal dune lakes throughout Walton County, each one is unique in its own way.
"Well, a coastal dune lake is a fresh body of water, a lake that is nestled behind the four dunes on the Gulf. Periodically, they will open up into the Gulf of Mexico and exchange saltwater with the freshwater of the lake," Director of the Choctawhatchee Basin Alliance, Alison McDowell said. "That means the lakes themselves are very dynamic ecosystems and they act like a small estuary almost."
The opening of outfall is important because it helps create the unique water and wildlife conditions within the dune lakes as the fresh and saltwater meet, but because of the area's booming growth, the coastal dunes lakes are now being threatened by invasive species.
"We have phragmites, which is actually a native invasive plant, but it can overtake areas of the shoreline and out-competes the natural vegetation there," said Foley.
Foley explained there are many factors that contribute to how invasive plants get into the dune lakes.
"So, invasive species can come in through construction or even boats that are brought in from out of state or a different area or even the animals and such that are passing through, maybe dropping seeds or anything of that nature," she said.
"An invasive plant will out-compete a native plant for habitat and resources," explained McDowell. "And so a native plant is there to support the greater native ecosystem. It serves the animals that live there. So if a native plant species are out-competed by an invasive plant then often there is no more food or hiding habitat for the birds and fish that depend on them."
That's why the Choctawhatchee Basin Alliance is using a grant to support efforts to remove as many of the invasive plants as possible.
"This is actually a continuation of an earlier five-star grant and some other grants we've gotten over the years that focus on the coastal dune lakes. The restoration part, for one thing, will do some follow-up treatments on lakes that we've already treated in the past because you can't just go out and treat them one time and it all goes away. You have to... it's a process. And then we'll do some new treatments along lakes that haven't yet been treated," said McDowell.
"It's something you can't see anywhere else, exactly like they are presented here. So it's special. It's something we want our kids and our grandkids to be able to enjoy just like we're enjoying them now," McDowell added.
Grayton Beach State Park is hosting a Coastal Dune Lakes Day Saturday, October 21st. from 10 a.m. to 2 p.m. to help the community learn more about these important ecosystems.