South Florida teens raise money for Hurricane Michael recovery efforts in Mexico Beach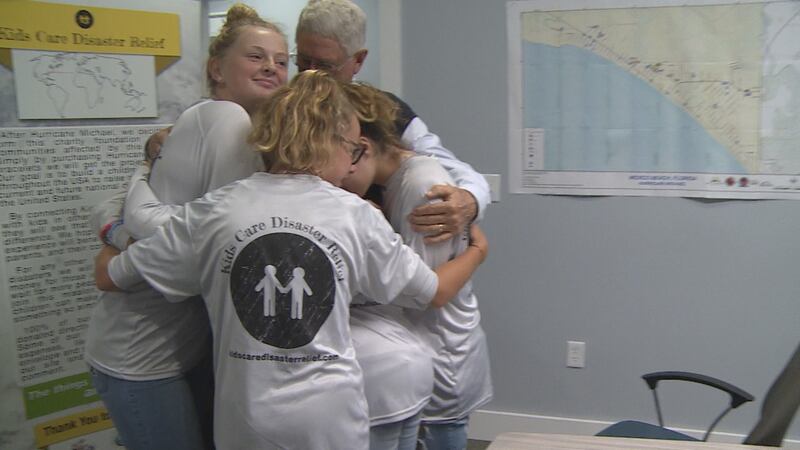 Published: Dec. 9, 2018 at 3:05 PM CST
Between the debris and the broken, it's hard to see light on a cloudy day in Mexico Beach.
However, sometimes a light shines through the smiles of children.
A group of 12 and 13-year-old girls, who started an organization called 'Kids Care Disaster Relief,' traveled to the Panhandle from Fort Myers Sunday to donate money they raised by selling bracelets.
"People might think that kids can't really help people, because we're just kids, but we believe that we can and can make a big impact on people's lives," Kids Care Disaster Relief member Kristina Podlasek said.
It all started when they were watching the news and saw videos of Mexico Beach, post Hurricane Michael. That's when they decided to make a difference by selling bracelets for five dollars a piece or for any donation.
"We thought we could all chip in and help and it turned out to be something way more than what we thought it could be," Kids Care Disaster Relief member Maya Shuster said.
They raised more than $9,000.
"What they've done is just one of the most inspiring things I've seen in the last six weeks and we'll remember them for that," Mexico Beach Mayor Al Cathey said.
Mayor Cathey will remember them and they will remember him, as well as this experience.
"On the way here, we were looking out the windows and we just see houses in lakes, cars thrown over, branches and trees in half," Kids Care Disaster Relief member Ella Dinkel said.
"I've heard the news stories, seen the videos but being here is just totally, totally different," Kids Care Disaster Relief member Ellie Appelgren said.
The money will be going toward city projects as the area continues to recover and rebuild.
The group plans on continuing its campaign to raise money for areas affected by natural disasters and has already begun fundraising for those impacted by the wildfire in California.
To purchase a bracelet or make a donation, head to the organization's website linked to this page.