The Golden Apple Goes to Jane Schmidt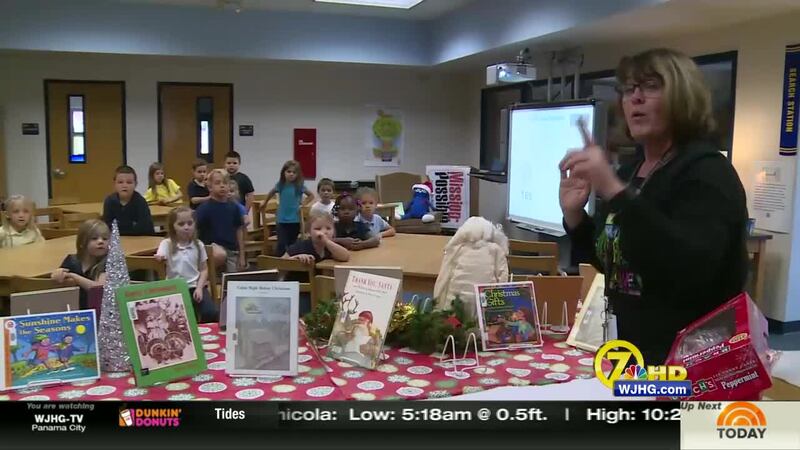 Published: Dec. 8, 2016 at 10:25 AM CST
Teaching in itself is an act of giving back. This week's Golden Apple Award winner is making sure every student goes home with a hand-picked Christmas gift.
"We're going to choose a book. You're going to keep this forever and ever," Jane Schmidt said.
"She makes the media center a real warm and inviting place," Chris Beard, Waller Elementary School's principal, said.
Students from Pre-K to fifth grade develop a love for reading in Schmidt's media center.
"Different age levels enjoy different types of books, and of course kindergartners love picture books," she said.
Schmidt spends 30-minute chunks with each grade at Waller Elementary School. The short visit means there's limited time for checking books in and out, group reading and interacting with technology. Much of her time becomes dedicated to exposing students to the media center's endless options.
"You want so much for children to want to read, and if they'll enjoy it, then that's the bonus," Schmidt said. "So we've spent a lot of time just trying to show them different types of books, different genres, introducing authors."
One initiative Schmidt started a free book to every student at Waller; a gift to match the library's Christmas spirit.
"Mrs. Schmidt makes sure they're equipped with what they need to become good readers," Beard said.
As a Title I school, library books provide many students their only chance to read outside of school.
"They'll stop me on the sidewalks and show me their books and they're just really pleased to have what they wanted, and Mrs. Schmidt teaches them to go toward what they're most interested in," Beard said.
She hopes she can mold these young minds into lifelong readers, in a special space outside the classroom.
"Our students, I love them dearly, and I want the best for them," she said. "It makes this seem like a family. It makes it seem like home."
If you'd like to nominate a teacher for the Golden Apple Award, click the Golden Apple tab here on our website.