The Golden Apple goes to Jennifer Henry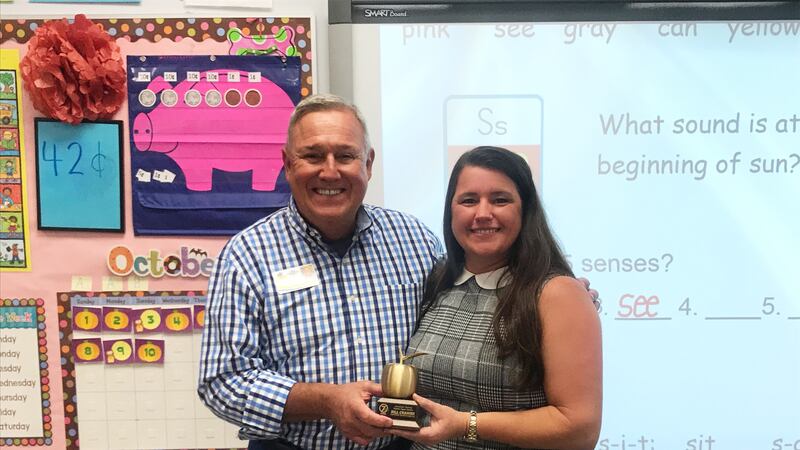 Published: Oct. 11, 2017 at 9:43 AM CDT
This week's Golden Apple winner has captured the hearts and equally as important, the attention of her kindergartners. Congratulations to Jennifer Henry of Bay Haven Charter Academy.
A year ago, most of these youngsters were in preschool. Now they've made it kindergarten and "real" school has officially begun.
"It's such a fun group," said Henry while smiling. "They are so excited to be here, and they love learning, they love everything about school. And they're just so sweet."
Jennifer Henry is a veteran when it comes to teaching.
"Kindergarten is very unique because every ten minutes we are doing something different," Henery said. "Their attention spans are very short so every ten minutes we are changing it up."
This week's lesson is an important review what they've learned so far this year. Each student watches and listens with eager attention, soaking up all the information like a sponge.
"Well she's nice, she's talented and she does nice things," said Logan, one of her students.
"We're learning how to read real words," said another student, Emme. "It's all about your confidence."
Being a kindergarten teacher is not always glamorous, but Henry says she wouldn't have it any other way.
"Oh, they keep me on my toes! It is fun and that's pretty much why I like kindergarten because it's just a fun grade. I mean there's days I don't even feel like I'm working," she said.
If you'd like to nominate a teacher for the Golden Apple award, click on the "Golden Apple" tab on our website.