The Golden Apple goes to Jody Hair of Mosley High School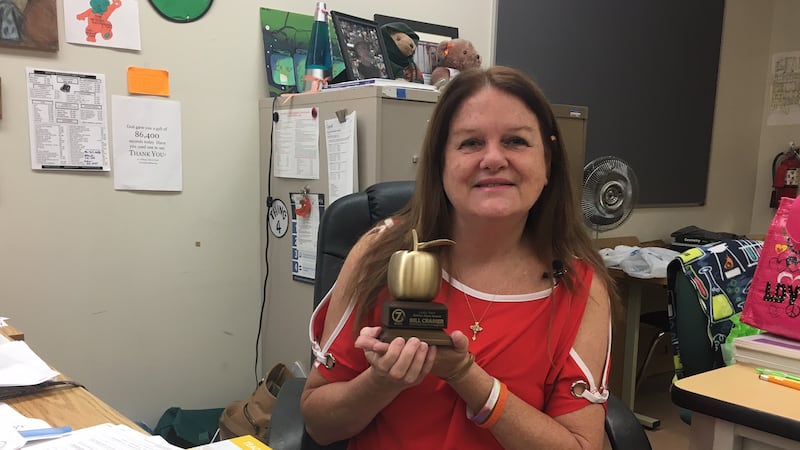 Published: May. 1, 2018 at 10:15 AM CDT
The mitochondria are the powerhouse of a cell and this biology teacher is the powerhouse of her classroom.
This week's Golden Apple winner is no stranger to the honor. This is her second time winning it!
Congratulations to this week's Golden Apple recipient, Mrs. Jody Hair of Mosley High School.
Mrs. Hair knows her students have been hard at work preparing for the Biology End of Course exam, along with other "EOCs."
"You guys aren't finished, just because you're finished with the Biology EOC. I know that you've got math coming up," she said to her class Monday morning.
Now that the Biology EOC is behind them, she wants her students to be able to focus on their other course exams and decompress.
"I do lesson plans every day and my lesson plans say, 'students are to accomplish this by doing this.' Tomorrow, my lesson plans actually say, 'have fun'," she told her students.
In this formula, understanding and encouragement make up this Golden Apple winner.
"I'm honored, you know, I'm at a loss for words," Mrs. Hair said.
She teaches biology at Mosley High School.
In fact, this isn't the first time she has been recognized for the award. She said she received this honor about 15 years ago, a true testament to her dedication to her classroom.
She said her husband is a chemistry teacher at Mosley.
"My sister, when she was a freshman, she had Mrs. Hair, so she was always talking about how nice she was and how great of a teacher she was, so I was really excited and hopefully, I really wanted to get Mrs. Hair when I was coming to Mosley," Sarah Grace Noble, one of Mrs. Hair's students, said.
Her students say she helped them feel confident for the EOC.
"Having a teacher that believes in you doing EOCs or any sort of test really helps you feel like you can do better than what you feel like you're going to do," Stephen Brosius, another one of her students, said.
"It's my students that have allowed me to receive the Golden Apple more than once. I have amazing students," Mrs. Hair told us.
"I'm sad that I have to leave her next year because I just want to have her for every year. She's just so great," Noble said.
If you would like to nominate a teacher for the Golden Apple award, click on the Golden Apple button on our homepage, found on the bottom right-hand side.