The Golden Apple goes to Melissa Clark from Deane Bozeman School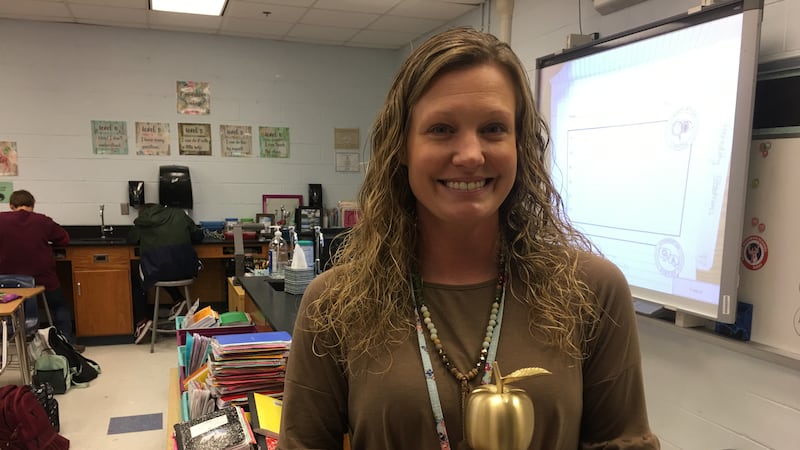 Published: Jan. 17, 2019 at 9:11 AM CST
One teacher's love for science and enthusiasm for learning makes her stand out in the classroom. Congratulations to Mrs. Melissa Clark, a seventh grade teacher at Deane Bozeman, and this week's Golden Apple winner.
Melissa Clark has been teaching science to students in Bay District schools for 14 years.
"I've always loved science, I'm passionate about it," Clark said.
And that passion has helped her students excel.
"She always motivates us to do our work and she always helps us make our good grades so we can pass this year's test, I enjoy science more because she always makes it positive and if you are having a bad day she cheers you up," one of her students, Tommy Hedges said.
"I keep them really busy, we've got a lot of content to cover, and as you can tell today, we run a lot of stations, so I get the kids moving and thinking. We also do a ton of labs and hands-on activities, " Clark said.
This year, Clark has 155 students and says building a relationship with each of them is her top priority.
"So, it's been a big job, but I've found it reduces behavioral issues and motivation, especially when we are learning challenging content," Clark said.
Clark says many of her students have been through a lot, particularly this year, and she wants to do her part.
"I just want to be that consistent force in their life that they know they can count on, and I just want them to leave knowing they are loved," Clark said.
She's spreading her love of science to students every day.
If you would like to nominate a teacher for the Golden Apple, click on the Golden Apple tab on our homepage.