This Week's Golden Apple goes to Jonathon Booth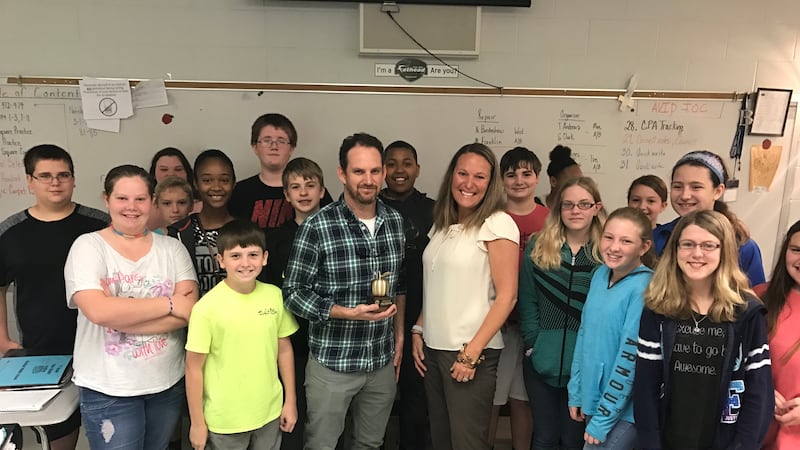 Published: Mar. 2, 2017 at 4:53 AM CST
Whoever thought seventh-grade science wasn't fun hasn't met this week's Golden Apple winner. Congratulations to Jonathon Booth at Roulhac Middle School.
In Mr. Booth's classroom, music and science go together like the earth's compositional layers, which is the topic of a song the entire class belted out in perfect unison while Mr. Booth used the class broom as a makeshift guitar.
"My goal as an educator is to provide an environment that students feel safe in for one," said Mr. Booth. "An environment they want to come back to and they find it easy to come into."
While Mr. Booth likely won't earn a Grammy with his singing skills, he has earned the admiration of his students.
"He is a really fun teacher, this is, like, the most fun that I've had all year," Morgan Mincey, one of his students, said. "I enjoy being in his class a lot because he pushes you to make your goals."
"Mr. Booth is an excellent teacher," Student Clinton Holmes said. "He tells you all the facts and he teaches you. He makes sure you're having fun at the same time while you're learning so you enjoy learning."
You will find a lot of creative learning activities in Mr. Booth's classroom. But what you won't find is a long list of rules.
"I believe that relationships are better than rules," Booth said. "So we don't have a lot of rules but I work really hard on developing that relationship with my students so that they can then learn from me instead of being afraid or having any kind of limitation or barrier between me and the student."
Mr. Booth hopes through creating a fun learning environment he will leave his students will some life-long skills.
If you'd like to nominate a teacher for the Golden Apple award, click the "Golden Apple" tab on our website.