This week's Golden Apple winner is Niki Calareso of Wewahitchka Elementary School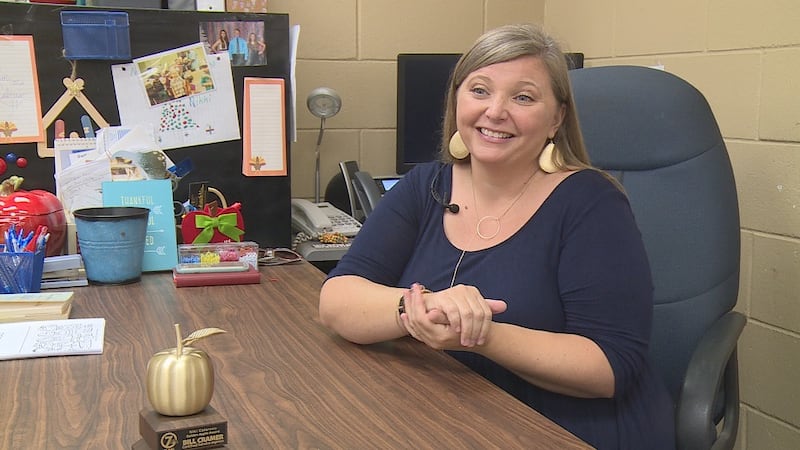 Published: May. 23, 2018 at 5:56 PM CDT
Teaching is an apple that didn't fall far from the tree for this week's Golden Apple winner. She is planting seeds in students' minds and watching them grow in the same school she called home.
Congratulations to Mrs. Niki Calareso, this week's Golden Apple winner.
Calareso, or as her students call her, Ms. Niki, has a new apple to her harvest.
You see, her classroom is decked out in apple decorations.
"I don't know, it's just always been my classroom theme since I started. My mom, I think my first year of teaching, my mom made me curtains for the windows that had little apples on them and I thought, 'Okay, we'll just go with that,'" Calareso explained.
The apple-filled classroom is the same classroom Calareso grew up in.
"This was my classroom as a student in school, so it's really special to be here," she said.
Now, Calareso is giving back to the school where she gained so much.
"One of the things we talk about from the very first day is that learning can be hard and that's okay. I think sometimes we come with the expectation that it's supposed to be easy," she said.
We didn't get the chance to hear what Ms. Niki's students think about their teacher, as they were in the middle of a grueling high stakes Jeopardy! match.
The end of the school year isn't always easy, but Calareso has some things she wants her students to take away from being in her class.
"Well first and foremost, and I'm going to try not to cry when I say this, I want them to leave knowing that I love them," she said.
As her fourth graders become fifth graders, she wants her students to be prepared for what's ahead.
"I want them to leave here and go to their next step in learning, in their next step in life and say, 'Okay, this is hard, but that's okay. It doesn't mean I can't do it,'" she said.
If you would like to nominate a teacher for the Golden Apple, click on the Golden Apple tab on our homepage.