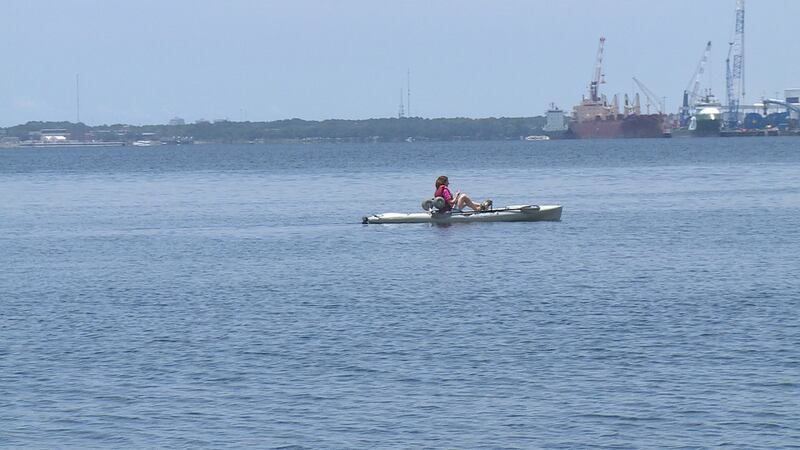 Published: Jun. 27, 2016 at 6:18 PM CDT
A Panama City man was released from the hospital after officials say he was hit by a boat while kayaking Sunday afternoon.
While the incident is still under investigation, Florida Fish and Wildlife officials want to remind locals and visitors to be safe on the water, especially ahead of a busy holiday weekend.
"Just a little common sense and education will go a long ways," Brad Stephens said.
Stephens has been kayaking for almost 17 years, and has been selling them for almost as long.
The owner of Sunjammers Watersports said he's seeing more people on our beaches and waterways than ever, and believes people should change their habits for recreation accordingly.
"I run power boats a lot, you just have to constantly have to watch out for kayakers on the water because they are fishing where you're boating."
Stephens recommended using brightly colored kayaks so you're easily spotted in our Gulf waters.
"We find out northern customers like more earth toned colors for duck hunting and stuff like that," he said.
Kayak safety has a lot to do with good conditions, good gear and knowing how to use it.
Stephens recommends wearing a bright colored shirt while on the water.
"If you get two-foot chop this is gone 70 percent of time from the eye of sight," he said. "But your torso and your shirt being bright colored is what makes your shirt stand out so much on the water."
Stephens said you should always have a life jacket, some sort of noise making device and a way to call for help. An often overlooked safety feature is a VFW radio.
"Most of them will have a 'find me' button or emergency distress that actually zero in on where you are," he said, noting that it's more helpful to emergency services searching for you than a phone.
Stephens says people need to constantly be aware of their surroundings. He believes a lot of people will get complacent when they don't see a boat on the water for a while.
"You may technically have right of way but my grandfather taught me the tonnage law always takes over," he said, "so you need to always have a plan to get out of another boat's way even if you do have the right of way."
Boaters and kayakers aren't going anywhere anytime soon. Stephens and FWC officials say both need to be weather and water aware.
"They're little pieces of plastic and we're pushing the limits with them every single day," he said. "Which is totally safe as long as you do it in the right conditions."
Stephens said people can also buy flags to put on their kayaks, similar to the ones people put on their bikes. He said also being that summers are so hot, people are apt to take off their life jackets. But FWC officials stress the importance of wearing one. Stephens says good quality jackets are breathable and comfortable enough for kayaking, and are worth the investment.
Stephens suggests boaters give kayajers as much room as possible, but says kayakers also need to be aware of where boats are, if they're restricted in some places.
"Everyone just has to figure out a way that we can co-habitate on the water."
Stephens tells most visitors who want to kayak in the Gulf to stay near the west end of the beach, because there are fewer jet skis, tourist boats and para-sailors.