Volunteers help build outdoor quarantine area for St. Joseph Bay Humane Society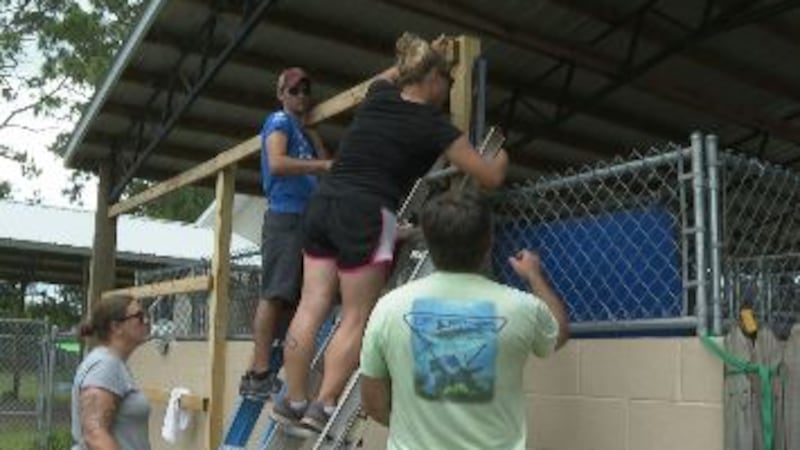 Published: Jun. 12, 2020 at 5:47 PM CDT
Lowe's donated the materials, and volunteers are out here helping build a new outdoor quarantine area so the St. Joseph Bay Humane Society in Port St. Joe can help more animals in the community.
For more than a year, the humane society has tried to build an outdoor quarantine area so they can take in more animals.
"The quarantine area was built to keep in mind that we have to keep the new animals that are possibly sick separated from the animals that have already been vaccinated and are ready to be adopted," said Caitlin Godwin, St. Joseph Bay Humane Society.
Thanks to local Lowe's stores, they have the materials to do just that.
In the midst of the coronavirus pandemic, construction was put on hold, so volunteers gave up their time to help with building.
"I know they're always short on funds, they're always wanting help, they're wanting assistance and volunteers to help, and that inspired me to come out here and help," said Ron Baumgardner, a volunteer.
Volunteers say they wanted to help the humane society because of all it does to educate the community.
"It helps them learn more about taking care of animals and what it entails in taking care of animals, it's not just a pet you have at the house, you've got to feed it, you have got to take care of it, you got to make sure they have all their shots and everything," said Baumgardner.
The humane society says they would not be able to do this work without the help from their volunteers and donations.
Copyright 2020 WJHG. All rights reserved.