Local Sheriff helps woman overcome 20-year drug addiction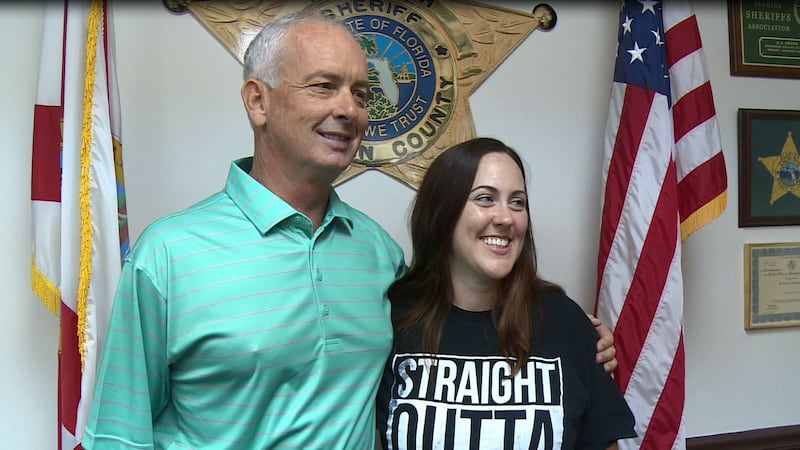 Published: Sep. 12, 2018 at 6:56 PM CDT
"I spent 15 years in a marriage and just doing drugs in secret and I couldn't do it anymore," said 38-year-old Renee Weisz, who was hooked on methamphetamines for 20 years.
"It took me real quick... like, that drug snatches you up," said Weisz.
After deciding she wanted to quit, Weisz's sister put her in touch with Franklin County Sheriff A.J. Smith.
Sheriff Smith says he realizes if addicts get the help they need, crime will go down, so he's offering to help anyone come clean.
"I knew about A.J.'s program, come to him, he had an open door policy," said Weisz's sister, Catherine Coulter.
Sheriff Smith is trying to change the perception that law enforcement only wants to put drug abusers behind bars. He wants people to know they want to help.
"Hey, if you have a problem come to the door and we'll do our best to try to help you but you gotta want to change and you gotta want to do it," said Sheriff Smith.
And Weisz wanted to put her problems behind her.
"When you wanna change, there's something inside you and all I can say is it has to be that piece of God that's in all of us," said Weisz.
Now, Weisz is the first person to come to Sheriff Smith and graduate from the Teen Challenge program.
"The things that drugs take away from you, she's gained back," said Sheriff Smith.
It's just a really great place if you're ready. I challenge anybody to go to Teen Challange," said Weisz.
Completing this year-long program has helped Weisz kick-start a new life.
"For the first time ever in my life I am proud of myself," said Weisz.
And now she has a life she can look forward to.
"I'm a new creation and I'm just looking forward to what lies ahead of me," said Weisz.
The faith-based Teen Challenge Organization has programs around the world to help with not only teenagers but adults who are struggling with addiction.
Sheriff Smith wants to one day open his own rehabilitation center in Franklin County.