Mosley football players show up in large numbers Monday morning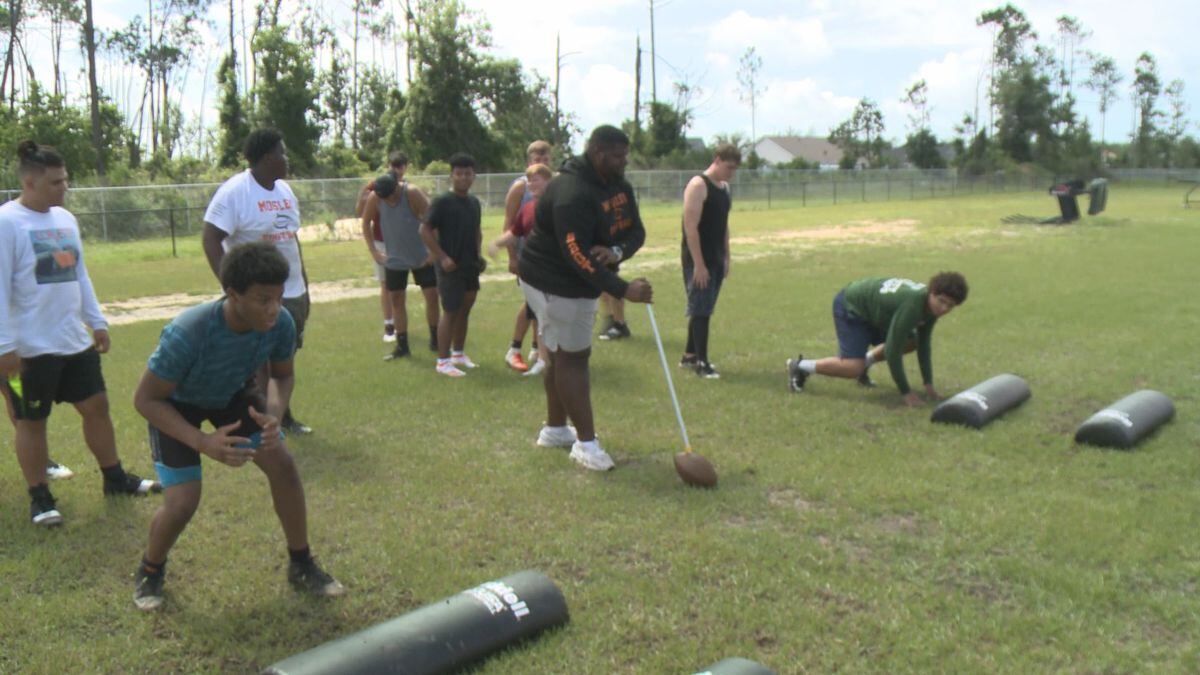 Published: Jun. 8, 2020 at 5:37 PM CDT
It is safe to say the football players at Mosley are more than ready to get back to work. Certainly Monday a very strong indication of that.
Bay County schools into a second week of workouts allowed, Mosley head coach Jeremy Brown and his staff deciding to wait until the start of week two get get things going. And the kids showed up Monday morning in large numbers.
This is part of what's being called phase two of the workout protocols, which allows for weights, including spotters on the side, conditioning and other drills.
Coach Brown and his coaches dividing the kids into 8 different groups to start, with work inside first. And then they hit the field together, with much of the work out there by position groups.
Coach Brown telling me there was little or no coaxing necessary to get kids to show up, and again, the numbers are impressive!
"The kids were really excited." coach Brown told me as the team hit the field. "We started reaching out to them about two weeks ago, letting them know we were going to get started today. It was a little bit more we had to do with the paperwork this summer ,but the guys did a great job of that. I think we have 103 kids here today. We've got about 80 10th, 11th and 12th graders. And we've got about 20 to 25 incoming freshmen. Yeah man the kids are excited! We did eight circuits in the weight room. Did a whole upper body circuit today. And now we're out here on the field getting in some position work in. The kids are excited. I got here right at 6:05 and I think about 630 the kids started showing up. I think they were ready to go."
Indeed they were. Senior to be Adrein Strickland is one of the team leaders going into the fall, turns out he was also leading during the lockdown, as best he could.
"It feels good to me (to be back with his teammates) because you know I've missed them." Strickland told me. "Being under quarantine, not being able to work out with them you know I've been talking to them every once in a while. Keeping them, trying to keep them in shape, trying to keep them doing good. Being out here with them is definitely like you know definitely big for me. Big for everyone else, everybody's spirits are definitely happier now."
"You know our program, it's a 12 month deal" adds coach Brown "we've always, we've worked the kids in something football related 12 months out of the year. So with us missing basically March, April and May, you know the kids now, you know summer is kind of a grind. But now the kids are like 'Coach we are ready to get back going.' So it's almost like the beginning of the season, you know today, you know what I mean. So we're gonna bring them back into it kind of slow."
Coach says he's hopeful they can move to "phase 3" of the protocols soon. That would allow contact, and if that happens, perhaps the state will allow some hitting during June and early July, to make up for the contact lost when spring practice had to be canceled.
Regular fall practice set to begin the last week of July.
Copyright 2020 WJHG. All rights reserved.